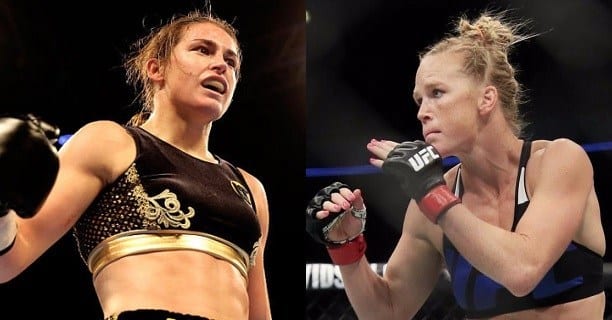 The list of fighters who have succeeded in both boxing and MMA is a small one but Holly Holm is certainly on it.
Holm, 40, last fought in professional boxing in 2013 when she was just 3-0 in her still developing MMA career. The Albuquerque, New Mexico native hasn't fought in any capacity since an October 2020 win against Irene Aldana in Abu Dhabi, a victory which brought her career ledger up to 14-5 in mixed martial arts (to add to her 33-2-3 record in pro boxing).
But as she plots her next move, Holm told BoxingScene.com that a return to the boxing ring is a strong possibility and even mentioned the potential of a fight with Katie Taylor — something which Taylor's camp have also flirted with over the years.
"I'll tell you what, there's a lot that I think about and that is one those things that I do, going to 135," said Holm. "We actually were open to fighting Katie Taylor before I retired [from boxing]. I don't know if they were ready to take that step."
In 2013, when Holm retired from boxing, Taylor was still three years away from making her professional debut and remained involved in what is seen as one of the finest amateur careers of her generation, male or female.
Holm, though, says that any talk of a fight with Taylor melted away as she began to concentrate on an MMA career which would eventually bring her a world title in November 2015, a full year before Taylor began her professional career with a third-round TKO of Karina Kopinska.
"I got so focused on MMA and that's where my passion was," said Holm. "You have to go where your passion is. You'll fight best where your passion is. Not for money, not for attention or anything like that. I miss boxing, it's always going to be a part of my heart. You never know. Maybe I will go back.
"A lot of fighters are going back and forth [between both sports] and nobody's doing it successfully," Holm said, perhaps referencing Claressa Shields' 1-1 record in the cage. "I can. I can do it successfully. I know I can. I know I can go back to boxing and still be a champion.
"It would take a lot for me to get away from this sport," Holm added. "People have been telling me to retire since I was 32. My dad told me one time, you know Holly these people say, 'Oh I don't know how you do it.' That's because they wouldn't. That's why they're not doing it, and that's why they're talking about you doing it. Anytime I hear someone say, 'You should retire.' Oh yeah, that's because you wouldn't. You would retire."
Comments
comments