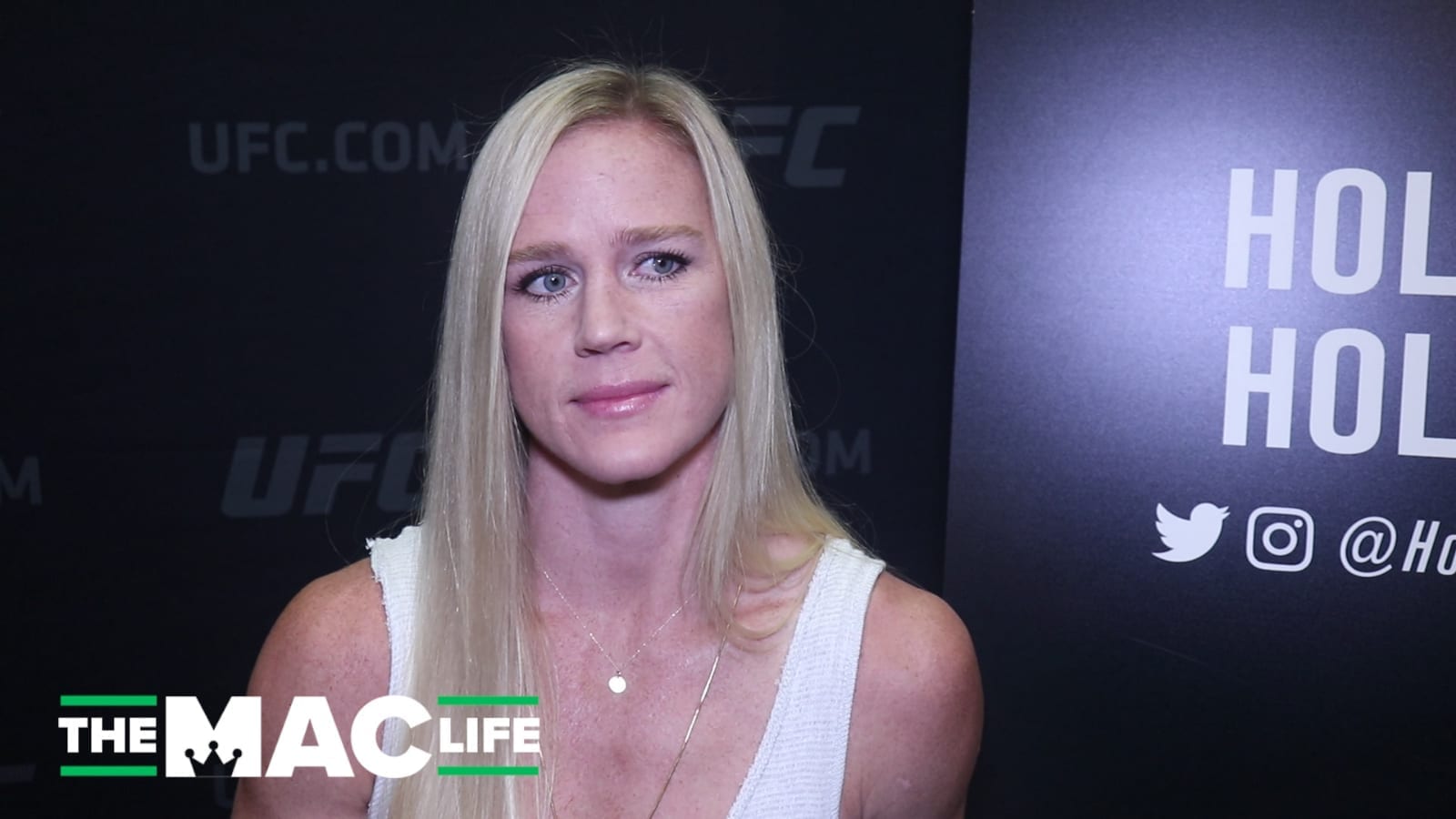 Holly Holm has not given up her dream of becoming a UFC world champion once again.
The former bantamweight champ currently rides back to back wins as she prepares for a bout with Julianna Pena, after losing to current 135-pound champion Amanda Nunes back in 2019. Despite that defeat, Holm has never waivered in her goal to get back to Nunes, and her last outing against Irene Aldana was one of her most impressive performances in recent years.
Despite her name value, however, Holm now finds herself in a tricky spot, where opponents would rather not compete against her on their own way to the top of the rankings.
"It was one of those things where I really didn't know when I was going to fight again," Holm said, speaking to MMAJunkie. "We were waiting for answers from Germaine. She said no. Then Pena said no. From what I understand, she said she only wanted a title fight. Then a lot of the other girls were scheduled or had just fought and I thought, 'I don't know who I'm going to fight or when.' I thought, 'I'm just going to keep drilling and trying to get better if something comes up,' then it comes up. But I didn't really know. Then sure enough, boom, Pena took the fight and we were ready to rock and roll."
As far as winning a world title again, Holm understands that a loss to the champion — particularly one by stoppage — means she has work to do to make her case. Unlike other fighters who might be willing to sit and wait for a sudden opportunity, Holm says she's going to get back there by fighting.
"What makes that even harder is that Amanda fights at two different weight classes," Holm said. "I want to show that I deserve to be there for the belt. … I want to fight the top girls, because in order to be the best you've got to beat the best. I'm not just always waiting for the title fight. I want to fight to get there. That's the whole goal. Otherwise, what am I doing this for? I'm not doing this just for the paycheck. I'm not doing this just to participate. I'm not doing it just to say I did it. I'm doing it for a purpose, because I want to be the best in the world.
"In order to be the best in the world, I have to fight the best in the world and beat them, which is for the belt, so whatever I need to do to get there. Obviously make the right decisions for that. It's not like I want to fight a (debuting fighter). I want to fight the top. Otherwise how am I going to show that I'm ready for this title fight?"

–
Comments
comments