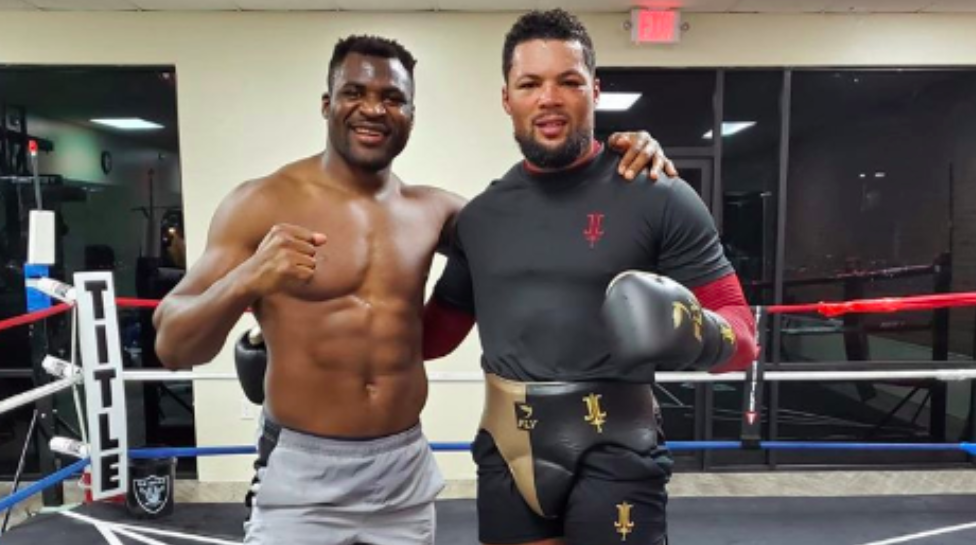 Francis Ngannou, most critics might say, has little more than a punchers' chance when he takes on Tyson Fury in Saudi Arabia in late October.
The thing is, though, the former UFC heavyweight champion hits VERY hard. Just ask British heavyweight standout Joe Joyce.
Joyce crossed paths with Ngannou at the UFC Performance Institute in Las Vegas some time ago where the two shared a few rounds of sparring before the Covid-19 pandemic and it was on this occasion, Joyce says, that he discovered that the Cameroonian fighter's power is "real" and that he "has a chance" in his professional boxing debut against the unbeaten Fury.
"Before the [Daniel] Dubois fight, that was when I sparred with him," Joyce told TNT Sports. "I normally saw him in the UFC facilities, had a chat and that. He hits hard if you let him and I think, with the stuff he's been working on with Mike Tyson, what I've seen, he looks good."
Joyce, who will look to gain revenge for the sole defeat of his career when he rematches Zhilei Zhang later this month, added that Ngannou will have to be on  his guard every moment of the fight if he is to have a chance of pulling off an upset.
"I think Fury obviously needs to be switched on, but he's experienced, he's got the longer range, he's taller, so he can keep him at range, but it's about Ngannou coming in," he said. "But especially with Mike Tyson…he wasn't a big heavyweight so that'll be good for him [Ngannou] to get in and if he can nail him with some big shots, then he's got a chance.
"The power's real if you let him hit you. It only takes one punch in heavyweight boxing so if he can land a good punch…I mean, Fury's shown he can get up as well, but I'm interested to see this fight."
Comments
comments