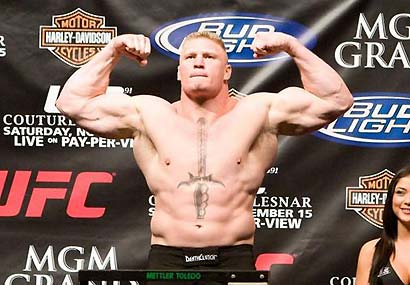 It looks very much like the Brock Lesnar sweepstakes are about to begin in earnest once again.
Last month Dana White ignited speculation as to Lesnar's fighting future when he announced that he expects him to have "one more run" in the UFC.
Lesnar, the former UFC heavyweight champion, made a temporary return at UFC 200 in the summer of 2016 where he was awarded a unanimous decision victory against Mark Hunt. However, the result of that bout was overturned to a No-Contest following an anti-doping violation. Lesnar has not fought since, returning to his familiar stomping grounds of the WWE for the part-time gig which pays a reported $12 million per year.
Now, a few things to consider: Lesnar's WWE contract is set to expire in three months time. If he has indeed contacted the UFC to sound out their interest for another run in the world's top mixed martial arts organisation it is certainly possible that he has done so in order to coax as much money as possible from the WWE when they begin their contract negotiations. This was the case when he signed a WWE contract in 2015, after teasing a UFC return throughout.
Now, you can never really be sure as to anyone's motivations in the curious world of professional wrestling but Paul Heyman, who is close to Lesnar in real life as well as on television, suggested to TMZ that the path is clear for Lesnar to return to the UFC.
"I think Brock Lesnar does whatever Brock Lesnar wants to do," said Heyman as transcribed by MMAFighting. "If Brock Lesnar wants to fight in UFC, Brock Lesnar will fight in UFC. If Brock Lesnar wants to fight in WWE, he will fight in WWE. Ask Braun Strowman, ask Randy Orton, ask 'The Undertaker,' Brock Lesnar does what Brock Lesnar wants to do."
Lesnar hasn't competed in the UFC for almost two years. He defeated Mark Hunt via decision at UFC 200 in July 2016 — his first fight in nearly five years — but Heyman says that this extended absence from the cage wouldn't prove debilitating.
"The time away actually makes him better because it gives his body gets a chance to heal," said Heyman. "The problem with these UFC fighters – and they are all fantastic athletes, top of the line in the entire world – is that they wear their body's down in these training camps. All these guys that are cutting weight are just destroying their own bodies. Brock Lesnar is probably the healthiest fighter to enter UFC if he decides to do that."
.
Comments
comments