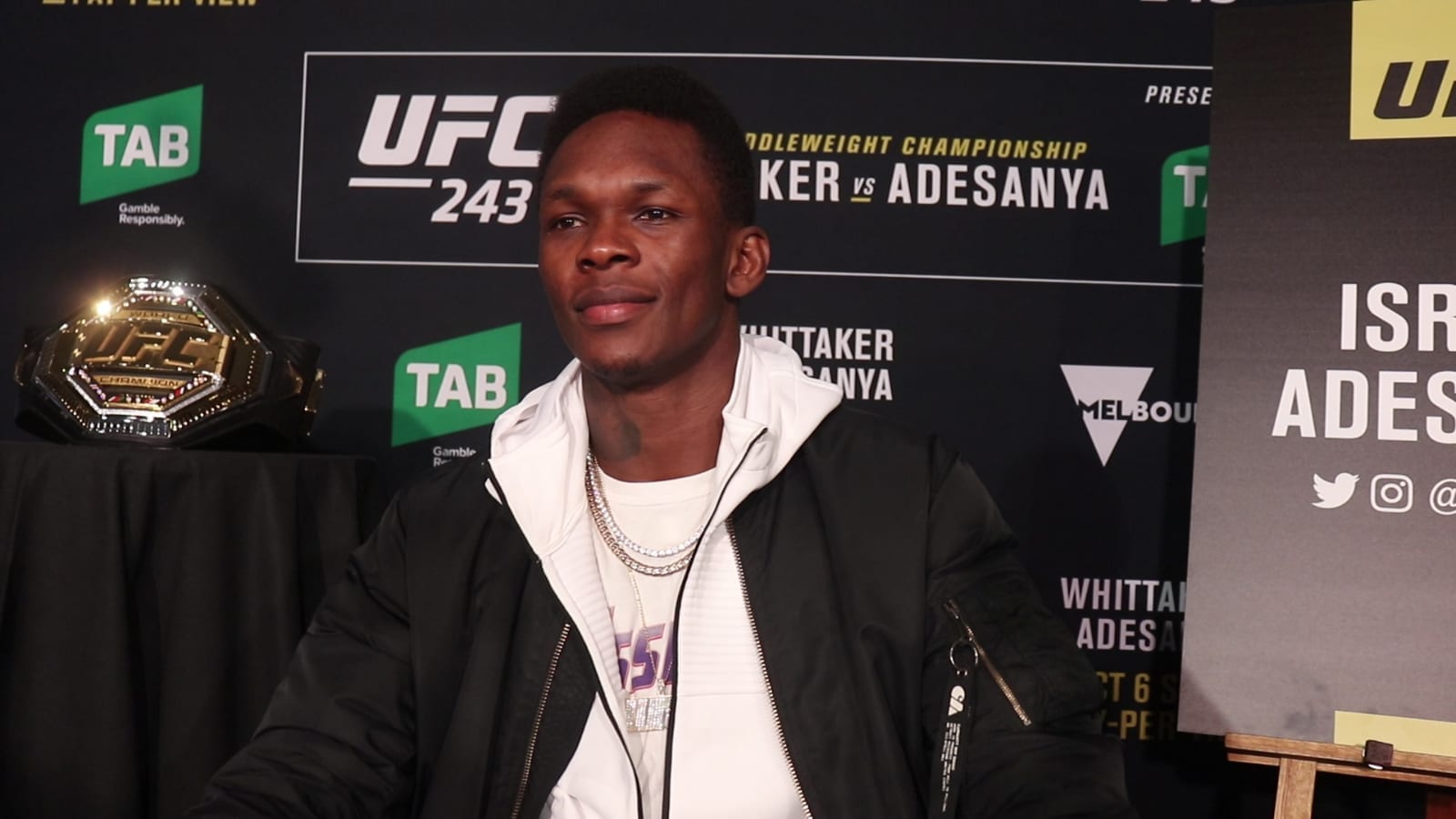 Israel Adesanya and Jon Jones have spent a significant amount of time engaging in a social media back-and-forth in recent months but the UFC middleweight champion isn't taking any pleasure in Jones' recent arrest for driving under the influence of alcohol.
Adesanya has predicted that the two UFC titleholders will meet in a 'champions vs. champion' match at the 2021 International Fight Week in Las Vegas but he says that he has largely reigned in his social media vitriol against Jones following the incident two weeks ago in which Jones pled guilty and received a punishment of four days house arrest and one year of probation.
"I did put some memes up because you have to give the people what they want, but at the end of the day, there's some stuff that I said privately to my people that's not gonna go out," Adesanya said to ESPN via MMA Fighting. "Some stuff that meme-worthy wasn't really kosher, even for my code."
Repeating similar words from another Jones rival, Daniel Cormier, Adesanya said that he doesn't like to see a fighter of Jones' status and talent act in a manner which undermines his undoubted skill.
View this post on Instagram
"He's a young black man at the top of his game and he's throwing it all away," Adesanya said. "A lot of what DC said, same thing. Like, I felt bad for him when I watched the body cam footage as well. At the end, when he was just sobbing, I felt bad for him. Because I can imagine myself in that position. And I even bet you in the back of the squad car he's thinking, 'F*ck, Israel's gonna have a lot of material with this one.' I bet you. I swear to God.
"But, like I said, a lot of it's never going to see the light of day because it's funny for me but at the same time I feel sad to see a young, black, skinny [expletive] who wishes he had the career at the beginning like I am right now, and he's just throwing it all away. So I've taken lessons from watching a guy like him pave the way, if you will, and I won't repeat the same mistakes. I'll make my own. Sex tape dropping 2020! Get ready."
Some had questioned Jones' punishment of house arrest as being overly-lenient, particularly in a time when most people in the United States have been implored to stay home to curb the spread of Covid-19, but Adesanya says that the UFC's 205-pound champion will still feel it.
"Nah, he's gonna suffer," Adesanya said. "I feel bad. Put it this way, I wouldn't want to be in a house with him right now. That's just all I'll say. . . I said it in one of my posts about quarantine, like staying strong because a lot of people spend time with their families and realise they don't like them, and a lot of people fix their relationship with their spouses, with their fathers, with their mothers, whatever, and I just feel like something like that happen in my household would just dampen the whole atmosphere. It just sucks. It sucks to be him."
Comments
comments