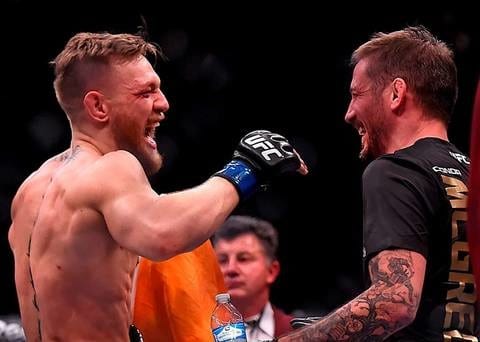 Conor McGregor, Forbes' richest athlete of the past year, can get his hands on practically anything that his heart desires — but according to John Kavanagh, what he wants most is 10-pounds of gold around his waist.
McGregor remains in recovery from the broken left lower leg he suffered last summer but recently stated that he expects to return to sparring in April, after which he intends to get back into the cage as soon as possible. And one there, Kavanagh says that there will be a range of options awaiting him.
"I'll be honest, the Nate Diaz trilogy is very, very tempting," he said to Ariel Helwani on The MMA Hour via MMA Fighting. "It's a fight that gives me nightmares. The man doesn't stop coming forward, whether it's three rounds or five rounds, but it's an intriguing fight. So that one is definitely very interesting.
"But also the Tony Ferguson one — it never happened. It was talked about a lot. And Tony still has, I believe, a lot to offer the game. He's a very unorthodox striker, grappler. I think the buildup would be fun for the fans. So any of those kind of legacy guys."
But whatever the identity of McGregor's next opponent, Kavanagh says that the current iteration of the UFC's lightweight division is about as strong as it has ever been.
"Look, that division is killer," Kavanagh said. "Your Dan Hooker's in there. The Islam [Makhachev] fight would be amazing as well, for obvious reasons. And we have whoever is going to win this belt coming up this Saturday. So, look, any of those names. I'm just excited to see Conor back healthy, training.
"I wondered what would happen after this injury," he continued. "It's a long road back to recovery. The boy, it's not a secret, he's got a couple of quid in the bank. He could obviously go off and live on an island and play on his yacht for the rest of his life. But I have not seen one percent drop in his incredible drive and desire and passion and interest in the sport.
"I've said it to you many times, I've said it to everybody, that if you can get rid of money problems, you really find out what it is you're passionate about, because you'll only do something you really enjoy. He's still in the gym, all day, every day.
"We're still chatting about fighting techniques, all day, every day. He's still talking about getting that belt again, all day, every day. What can you conclude from this? He loves fighting. He loves mixed martial arts. He loves competition. So let's get back healthy, let's get back training, and let's go on a run in '22, and I'm sure there's some people there with steam coming out of their ears that he's coming back for that belt, but I'm sorry to upset you — he's coming back there for that belt, so give me your best shot on Twitter."
Comments
comments