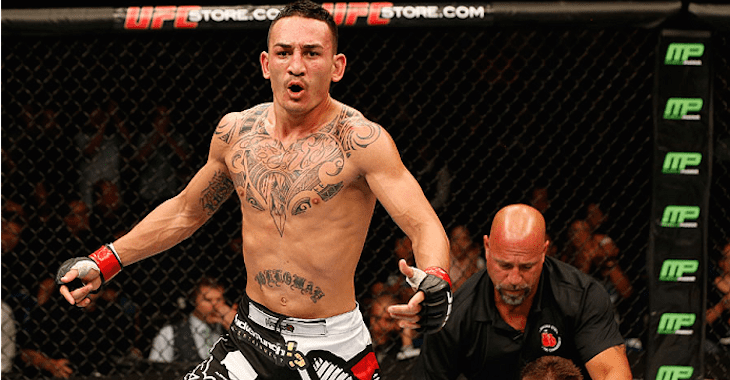 Speculation has been rife as to the status of UFC featherweight champion Max Holloway since he was pulled from his UFC 226 title defense against Brian Ortega.
Holloway, who remains undefeated since an August 2013 loss to Conor McGregor, was withdrawn from the bout when his team and UFC officials noticed him displaying concussion-like symptoms, raising concerns that the 145-pound champion would face an extended period on the sidelines.
Dana White, however, provided a positive update while speaking to the media ahead of Saturday's Alvarez vs. Poirier II card in Calgary, Canada.
"He's good," White said of Holloway. "He's doing well. They gave him a time frame. I'd actually like to wait a little longer on his time frame and make sure that he's 100 percent. I don't know yet (what the time frame is for his comeback).
White also indicated that the promotion was willing to "wait" for Holloway's return, suggesting that an interim title will not be created during the Hawaiian's absence. The UFC president also stated that they are still waiting on medical tests to reveal the full extent of Holloway's medical issue, though confirmed that he hadn't suffered a stroke as had been suggested in some corners of the media.
"There was no stroke," White said. "It either had to do with concussion – either a concussion, or they believe it happened to him because he was cutting weight at that time. We still don't know for sure. But we know he's doing OK, he's healthy, and he's doing a lot better.
""What I want to do is have him take some time off," White said. "Here's the problem: No matter how far away you book a fight, I'm worried about him starting to spar. I don't want him to do any of that stuff until it's absolutely necessary. I want to give him more time. There is no time frame. I just want this kid to be healthy."
Comments
comments