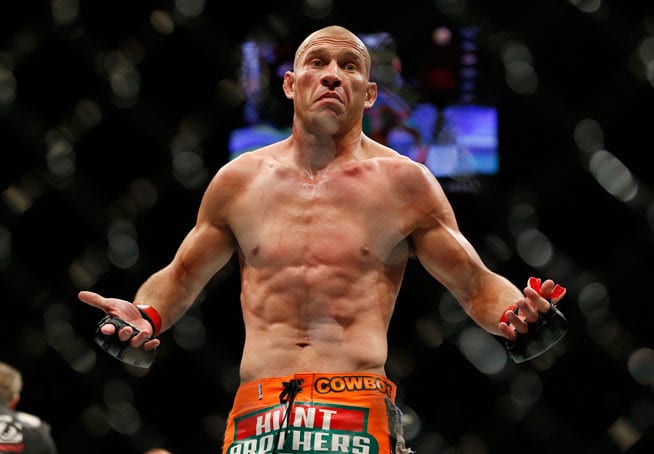 It seems that the upcoming bout between Donald 'Cowboy' Cerrone and Mike Perry has started something of a civil war within the famed Jackson-Wink Gym in Albuquerque, New Mexico.
The clash between the two training partners will serve as the co-main event at UFC Fight Night 139 on November 10 but it appears that the fight has unearthed some resentment in the gym. Cerrone has previously criticised Mike Winkeljohn, who operates the gym with Greg Jackson, for turning the facility into a "puppy mill" with more of a focus on making money, along with a lack of loyalty.
These comments did not sit well with Winkeljohn, who responded in kind to MMAJunkie.
"Loyalty is two sides," Winkeljohn said in riposte. "Cowboy is not loyal to anybody in the gym. He's on his own. He does his own thing. He has not, from what I can remember in the last 10 years, ever helped anybody out with their own camp. He's as narcissistic as they come."
The bout between Cerrone and Perry was notable for being one of the rare cases in which two fighters from the same gym face each other in professional competition, with Perry saying that because they already beat each other up in private they may as well get paid to do it under the lights.
However, according to Winkeljohn, Cerrone has been taking fighters from the gym to train at his own facility on his ranch, ignoring the gym, and Winkeljohn says that "100 percent" of those fighters have subsequently lost.
Winkeljohn says that, even though they are siding with Perry in the training ahead of the November fight between the two, the internal rift in the gym was caused long ago by Cerrone.
"I put up with it for a long time because Greg [Jackson] has the biggest heart in the world," Winkeljohn said. "He's like my little brother. But at the same time, it was causing division.
"If Perry wasn't at my gym, I'm so much happier now that I got rid of the division in my gym (and) somebody that doesn't want to help others and wants to do his own thing. It has absolutely nothing to do with Perry, and everything to do with Perry.
"What would 'Cowboy' do if it was his gym? Well let me think," he said. "If I wanted to go into his gym use it when I wanted to, not be respectful, not help others, pull people and coaches away from the gym, and do things for myself, and then tell the new gym not to work with this person they've been working with because it's all about yourself, what would 'Cowboy' do? I know what 'Cowboy' would do: The same thing I did, and that was basically, 'Sorry kids, (expletive) that."
Comments
comments