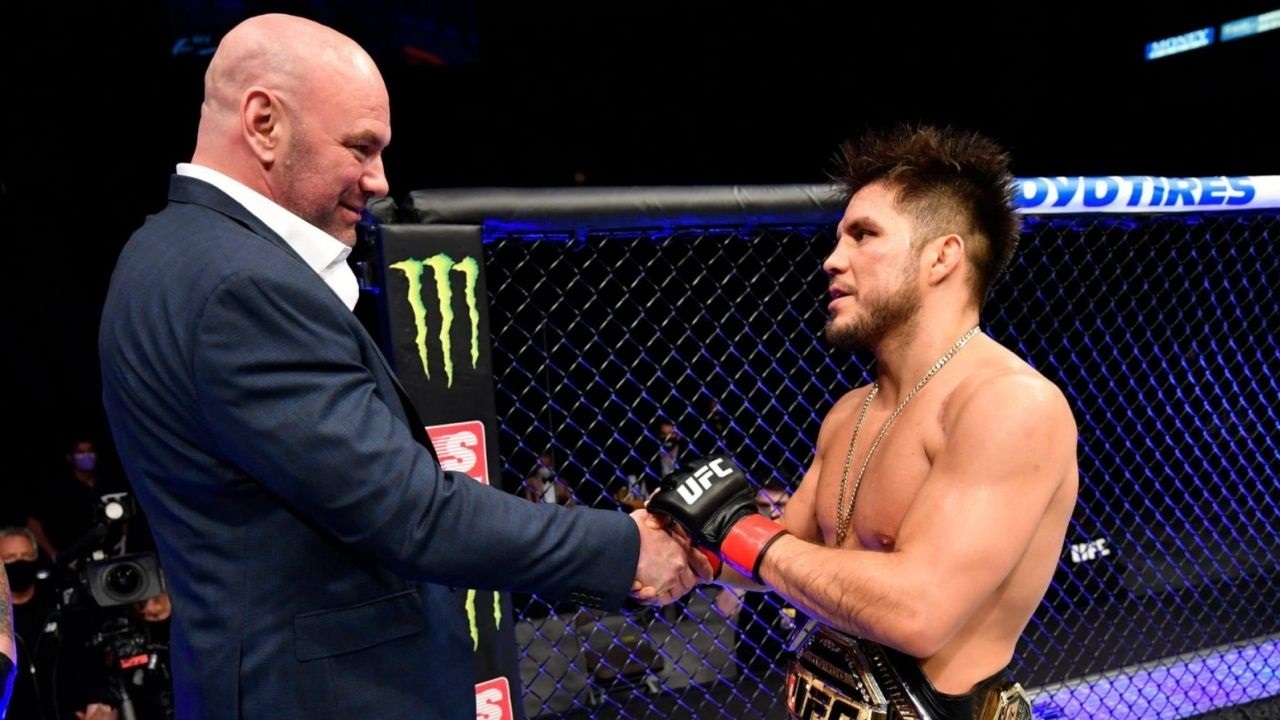 The soon-to-be unretired Henry Cejudo still sees himself as the pacesetter in the UFC's bantamweight division almost exactly two years since his last fight.
Cejudo, the former two-division and Olympic champion, has re-entered the USADA testing pool ahead of making a return to action presumably later this year and will find himself in a division ruled by Aljamain Sterling, who scored a satisfying win against Petr Yan in their heated rematch a month ago.
'Triple C' is eyeing a high profile run of fights on his return, including a title bout with Sterling, a rematch with TJ Dillashaw and then a featherweight world title fight with Alexander Volkanovski as he chases a world title in a third weight class.
But first, he says, will be Sterling and he says he sees a pretty straightforward path to victory.
"Too many flaws. I'm going to expose him," Cejudo said of Sterling on Daniel Cormier's YouTube channel, as noted by MMA Fighting. "He's got a lot of flaws. As good as he is, he's got an ability to him, and I think that is his greatest asset: his limbs. But I still don't think he understands his whole capabilities just yet. Think about it this way, I'm 5ft 4in, small, short, but I know how to fight people where people don't touch me. I know how to wrestle people, I'm a better competitor than I am a fighter. So when I see a guy like Aljamain Sterling, that's easy money.
"He's got the belt, but he's not the best in the world. If you're talking about competing, you'll never be a better competitor than me. But everyone has a puncher's chance."
Sterling, who was sitting face-to-face with Cejudo on the episode, says that he has heard all of this before — particularly in the run-up to his second fight with Yan.
"I didn't know if the guy was serious or not," Sterling said of Cejudo returning to the cage. "I like my chances. I've heard it all. I've had people doubt me for literally 13 months telling me I'm gonna get done any way possible like we're in a prison cell and this guy's gonna bend me over backwards and have his way. What else can people say? I just go out there and do what I gotta do, put the work in and show up for work, punch the clock in and walk out with the hand raised.
"I like proving people wrong. It's satisfying. There's something very satisfying about talking your s***, then being the guy who walks away like, 'How bout that?' It's not s*** talking, but somebody has to eat their words and that's what makes it all the more satisfying because someone has to eat the humble pie. I feel like Henry,  he's had enough pie,  but he hasn't had enough humble pie.
"I think it might be similar to a Volkanovski-Ortega except the difference is I can wrestle," Sterling said. "I'm not gonna say I beat him down, he's not just gonna sit there and take it. He would be Volkanovski, I would be Ortega in terms of the submission but I can actually wrestle. No offense, Ortega."
Either way, any Cejudo-Sterling fight remains in the distance as Cejudo will be required to be in the USADA testing pool for at least six months before he can fight — but Sterling, you feel, is once again emboldened by the prospect of proving his doubters wrong.
Comments
comments