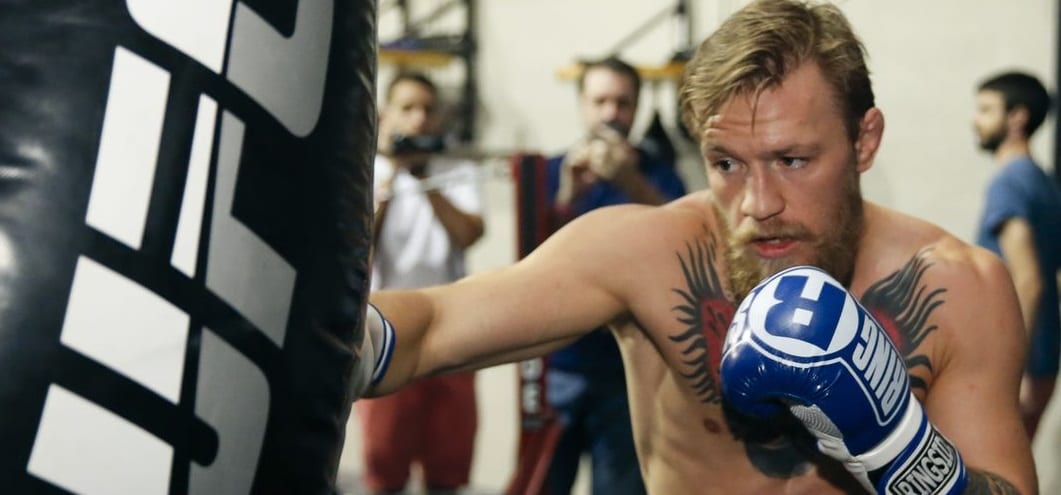 Now that Floyd Mayweather has officially un-retired, another of the obstacles that was seen as standing in the path of a showdown between Mayweather and Conor McGregor has been removed. Now that the bout appears closer than ever to being made, figures within the boxing and mixed martial arts worlds are beginning their predictions of how the fight will go down.
Speculation of a fight between Mayweather and McGregor first appeared last May and was quickly dismissed by many analysts. However, as the rumours continued, as well as both fighters speaking on the record as to their desire to get the bout arranged, the boxing and MMA communities have begun considering exactly what it would look like if the two traded blows in the squared circle.
On the Fight Companion podcast, as part of the Joe Rogan Experience, the UFC colour commentator outlined just how big a fight between Mayweather and McGregor would be.
Speaking over the weekend on the Joe Rogan Experience Fight Companion podcast for the UFC event in Fortaleza, Brazil, Rogan attempted to break down a Mayweather vs. McGregor bout and suggested that it would be a lot closer than some people seem to think.
"It's the biggest fight ever", Rogan said. "Because it brings in two worlds. It brings in the UFC world and this one guy who's unquestionably the biggest star in the UFC – unquestionably, by a long shot – and then you bring in a guy who has been one of the biggest money makers in the history of boxing, the only guy to go 49-0 other than Rocky Marciano. He's right there and he'd love to break Rocky Marciano's record."
McGregor and Mayweather meeting inside a ring, dubbed the "world's first billion dollar fight" would represent the biggest figure from the world of boxing meeting his equivalent from the world of mixed martial arts. While the fight taking place in the boxing ring represents a challenge for McGregor, Rogan says that McGregor
"There's something about [Conor McGregor]. I'm telling you, there's something about that dude. He's got something going on. He's got a little something extra special but he would need everything to line up.
"Mayweather would have to dismiss him as a threat. He'd have to not train hard enough, he'd have to not seriously consider the possibility that Conor connects on him and knocks him out. And then Conor would have to do some roughhousing. He'd have to hold him in the clinch. He'd have to hold him and hit him. He'd have to try and get off as many shots and bully him around and wear him out. It's a possibility. He's a much bigger man. He's a much bigger man. If you compare the two of them frame-wise, if they ever do do it, and they're standing right at each other, looking down at each other doing eye-to-eye, you're gonna go 'oh, s**t.' [Conor]'s a big f**k. He can make that 145-pound cut when he's on death's door, but Mayweather makes it easy.
(Via MMAFighting)
Comments
comments