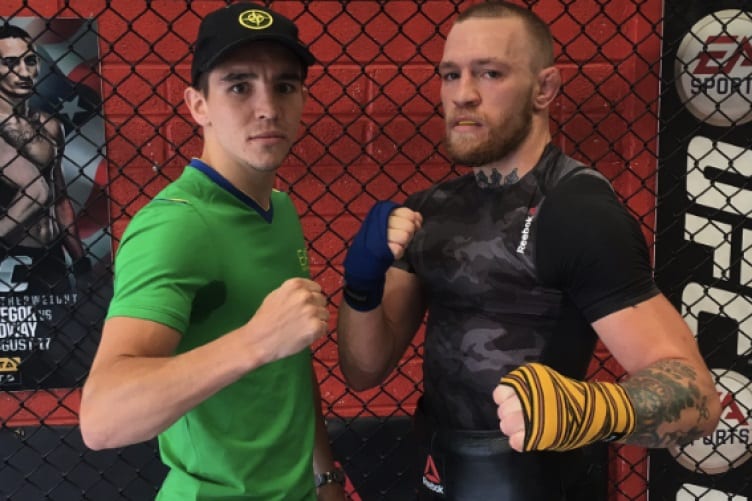 When Michael Conlan makes his walk to the ring for his professional boxing debut in Madison Square Garden on St. Patrick's Day, it will be the realisation of a fighting prophecy borne many years ago by his father and first trainer John.
Thought by many to be one of the finest amateur boxers in Ireland's history, Conlan was long considered a standout prospect for world titles once he decided upon his inevitable move to the professional ranks. That decision was expedited at last year's Rio Olympics.
Conlan, a favourite to take gold in his men's bantamweight division, was eliminated from the games in controversial fashion as he was judged to have lost on points to Russia's Vladimir Nikitin in the quarter-finals, despite most observers thinking that the Belfast man had done more than enough to warrant a victory.
Upon hearing the result of the bout, a furious Conlan raised his middle fingers towards the judges and gave an interview on Ireland's national broadcaster alleging corruption in amateur boxing. That night, Conlan said to TheMacLife.com, was about as low a feeling as he has ever experienced.
"That day — I'm not lying — was probably one of the most hurtful days I've ever had in my life. It killed me", Conlan says. "But I've bounced back. I've grabbed the nation, grabbed this opportunity with both hands. It's definitely the silver lining at the end of the tunnel."
When Conlan makes his walk to the ring on St. Patrick's Day in Madison Square Garden to face Tim Ibarra (4-4) he will do so in the company of another fighter who has seen his share of success inside the world's most famous arena. Conor McGregor, the UFC lightweight champion, will fulfill a promise he made last year by carrying the Irish flag as Conlan approaches the ring for his professional debut and Conlan says that he will be looking to emulate the achievements that McGregor has carved out for himself in recent years.
"What Conor has done, the way he has gripped the nation [and] the way he has gripped the world, that's something I would love to emulate. I think he's the best sportsperson in the world at the minute, the most wanted sportsperson in the world at the minute. To have that kind of buzz around you and the atmosphere you bring to events, it's something I would love to do in future and I believe I will do that.
"His position is where I hope to be in future. He's someone who I look up to and I'm inspired by every single day. I feel I'm kind of where he was at the start of his career and I'm going to push on and do what he done as well."
And as for what to expect when he steps into the ring next weekend?
"You're going to see a whole new Michael Conlan, a different Michael Conlan than you seen in Rio. You're going to see a happy, enthusiastic and powerful kid."
.
Comments
comments