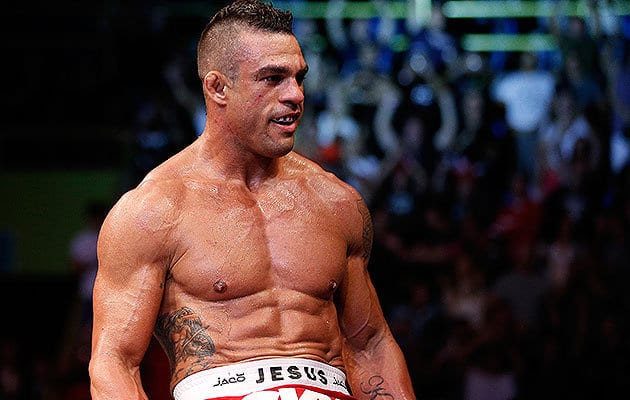 Vitor Belfort didn't get the result he wanted on Saturday night in Fortaleza.
The Brazilian legend, who turns 40 years old in a few weeks, was outgunned by the impressive Kelvin Gastelum and ultimately finished in the first round of the UFC Fight Night 106 main event in front of Belfort's compatriots. Now with three losses on the bounce, Belfort said in the post-fight press conference that he recognises that his performances have diminished and, with his body showing the stress of more than two decades worth of competition, it's time to prepare his exit strategy from the sport.
Recently, Belfort has been campaigning for a 'legends division' where certain fighters of his vintage can continue their careers in a format where certain parameters of the unified rules would be modified.
Speaking at the post-fight press conference, Belfort was asked if his retirement from the sport was nearing and he responded with a positive.
"Yes", Belfort said. "Unless they create this legends' division, then we can continue a little longer. But training for five-round fights is too much for the body. I was in great shape, but he connected some good strikes and it was his night.
"I was well prepared, my team worked hard. It's frustrating because I was well until one moment, I was confident I was going to get the knockout, and it was the opposite. But that's it. We need to reinvent ourselves. It wasn't the first and it won't be the last. I mean, I hope it's the last.
It's time to end this chapter as a professional fighter," Belfort said. "My body is not the same anymore for training. It's too much pain. I did more than 14 surgeries. I left everything in the Octagon. I'm sad because I didn't give the win to my fellow Brazilians, but it happens.
With thoughts moving on to his next (and final as he sees it) fight, Belfort said that he doesn't yet have an opponent in mind — just that he doesn't want to fight a fellow Brazilian in Brazil.
"I don't have any names off the top of my head. I just don't want to fight a Brazilian in Brazil. We have to sit down with the UFC and see which opponent would be an interesting fight. I never turned down fights, always fought the toughest ones in the division, but the last fight has to be special for the fans. Let's see if that's possible."
Comments
comments