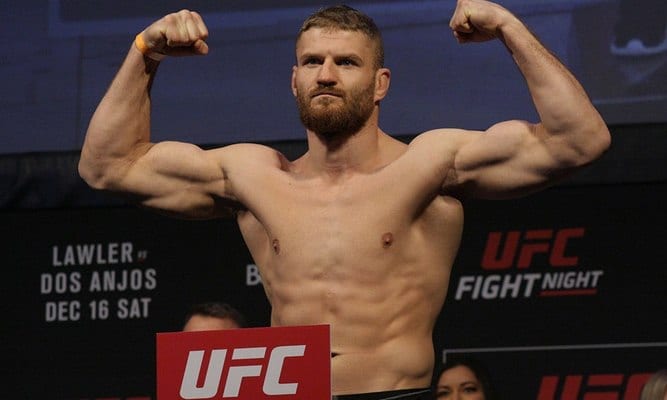 Jan Blachowicz certainly isn't phased by the test which awaits him in the cage this weekend in Las Vegas.
The reigning UFC light heavyweight champion takes on the fist defence of the 205-pound belt he won in a bout with Dominck Reyes last year after Jon Jones relinquished the championship to take on challenges in another weight class. Blachowicz will face another fighter moving weight classes on Saturday — and while no one has found an answer to Israel Adesanya's unique box of tricks at 185-pounds, the Pole says that he is more than equipped to hand Adesanya his first career defeat.
While Blachowicz will enjoy a size advantage in the cage, some are suggesting that Adesanya's speed and precision striking will neutralise any natural advantages he enjoys — but Blachowicz isn't worried.
"I focus on me, on my preparation, on my camp. I train with faster, lighter guys, I train with guys from my category," he said via MMA Fighting. "I also train with heavyweight guys. Because we will see on the day, one day before the fight, and fight day his size and then we're going to be ready for everything.
View this post on Instagram
"That's why I train with faster guys, lighter guys, my category and with the heavyweight guys. Because I want to be ready for everything. This as you know is a game, this is business and you have to be ready for everything.
"For sure, he's going to feel something different than he's felt before. Because at 205, everything is different. Power is different. Speed is different. Even if you train with light heavyweight guys and heavyweight guys, this is only sparring. The fight got its own rules and he's going to feel it. This is good for me. 205 is my category. I do this all my life. I feel everything inside octagon over there. It's going to be better for me."
Blachowicz remains confident that the power he packs in his punches (ask Reyes and Luke Rockhold) will prove the difference-maker in the fight, and that Adesanya is in for a grim realisation after their first serious exchange.
"I've got the legendary Polish power and when he feels it, he feels it for real," he said. "You will see. After first kick or the first punch, he's going to know what I'm talking about when I'm talking about the legendary Polish power."
Comments
comments