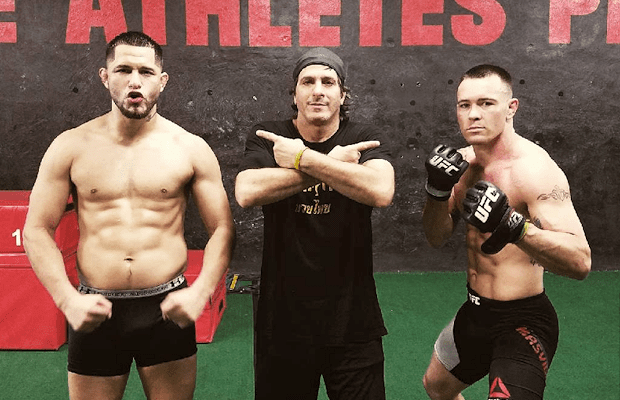 One person who won't miss having Colby Covington around the American Top Team training mats is Jorge Masvidal.
The UFC welterweight has a long history with Covington, even allowing him to sleep on his couch for a prolonged period in the early stages of his professional career. Things have certainly soured since then.
Covington's brash MAGA-inspired persona has certainly brought more attention to him but it also drew the ire of several figures within the ATT facility — not least Masvidal, and now he says that it will be a breath of fresh air for the team to move forward without Covington.
"At the end of the day, he didn't feel safe in here, man," Masvidal said via MMA Fighting. "I wonder why.
"I'm not exaggerating what I'm saying – this is a temple for me," Masvidal said of the gym in which he trains. "It's somewhat of a religious experience for me being in here, being in here since I was a kid, you know? My good days, my bad days, my birthdays, all days I've spent in this gym, sharpening my tools.
"I truly love this place, so I don't like to see that animosity, even if he had never said a word about me, what type of teammate, or man – he's not a man, but – with the sport that we're in that you can insult a woman? He insulted Joanna [Jedrzejczyk]. He insulted Amanda [Nunes]. He insulted Dustin [Poirier]. These people are not in your weight class.
"I get it – you're trying to do this thing that you're some kind of heel. What's that have to do with a woman? A 115-pound woman, or a 135-pound woman? Are you going to compete against them? Are you going to sell more pay-per-views because you're talking about Amanda and Joanna? Answer me that. Is that's what's going to happen? People are going to be like, he's talking smack about chicks, I'm going to go buy the pay-per-view? It just sets a bad example for our team and our sport."
Furthermore, Masvidal is predicting a downturn in results for Covington now that he is no longer associated with ATT.
"His next fight, he's going to get knocked out, and he's going to end up fighting in Indian gaming halls for his life, man," Masvidal said. "I'm pretty sure he's just done, man. Life is going to get him out of there. I don't see him winning anymore – not at a high level. But if they give him some new guy who just came in, maybe. If they have him out there against top competition, he won't hang.
"He's a fragile dude, man. He's not a guy that's mentally strong. I remember he used to cry on my couch all the time. When he broke his hand the first time, he lived on my couch for eight, nine months. Didn't have a job, couldn't fight, had a broken hand, and he thought about quitting two or three times. So mentally, he's weak. I've been hearing the same thing about the jaw. I'd be surprised if he even comes back to fight. He was going to fight with me? He wasn't training anywhere. He was just [talking]."
Comments
comments