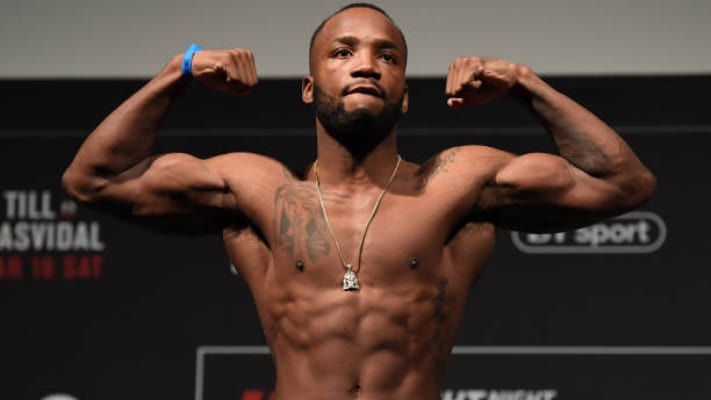 Leon Edwards says that Jorge Masvidal never had any intention of fighting for him next month after he pulled out of the welterweight fight citing injury. 
The two had seemed to be on a collision course since their backstage fracas at a UFC event in London nearly three years ago, but Masvidal had long distanced himself from any potential fight with the Birmingham man — only relenting after losing two successive world title fights to welterweight champion Kamaru Usman.
Edwards, who is also chasing Usman, had previously indicated that it was title shot or nothing for him after embarking on one of the longest unbeaten streaks in the division's history but eventually relented and agreed to a bout, but now that it's off he told ESPN that he thinks Masvidal had no intention of fighting him.
"I knew he was going to [withdraw]," he said to ESPN. "I heard some news coming back that he was looking a bit fat, he was looking chubby still. I didn't think he was training for it to be honest. I always knew he was going to run away. It's been three years since the incident in London and he's been dodging me ever since.
"I believe he's a fraud and he's doing what he needs to get out of the fight," Edwards added. "He knows that once he loses to me, where does he go?"
Edwards has maintained that he's done with Masvidal after this pullout, much in the same way that he distanced himself from a fight with Khamzat Chimaev after their scheduled bout(s) fell apart late last year — and with no real challenger apparent for Usman, Edwards says that it is the champ or nothing for him next.
"I feel [the UFC] sees it," Edwards stated. "They now believe I am well-deserving. There is no one else for Usman to fight. I'm the guy saying 'yes' all the time. I'm the guy fighting. I feel the promotion and I am on the same page, let's say that.
"Usman definitely fell in love with his hands. He definitely believes in them. He's calling out Canelo. He truly believes that he's some sick striker. Fair play to him, but I know when we fight, he'll be shooting for his takedowns. I don't think it will be a striking match. I think it will be more wrestler versus striker. I'm looking forward to it."
Comments
comments