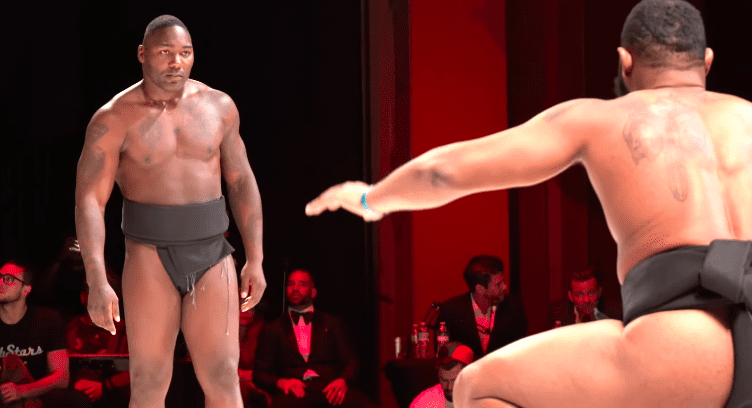 Anyone thumbing through their social media timelines last weekend might well have happened upon a brief clip of UFC heavyweight Curtis Blaydes taking on Anthony 'Rumble' Johnson taking part in the ancient Japanese art of sumo wrestling and, if you want to see some more of it, here you go. 
For the uninitiated, the sport of sumo pits two rikishi (wrestlers) against each other in a circular ring with the aim of pushing the other participant outside the circle or forcing a technical foul, such as placing a hand on the mat. It originated in the mid 16th century and remains steadfastly popular in Japan today.
Several sumo participants have taken part in mixed martial arts competition over the years. Those of us of a certain vintage can hark back to the gargantuan American Emmanuel Yarbrough who weighed as much as 882 pounds at one point and was (to our knowledge) the only MMA fighter to have a submission on his record which was described simply as a 'smother'.
Akebono Taro was another Japanese-American sumo to compete in MMA, though he compiled a 0-4 record, fighting the likes of Royce Gracie and Don Frye along the way.
While sumo –> MMA has happened on more than one occasion, the river doesn't tend to flow in the opposite direction. Until now, that is, after Johnson and Blaydes took part in a sumo match at the recent SubStars grappling event in Miami, Florida, which you can check out the full video of below.
–
Comments
comments