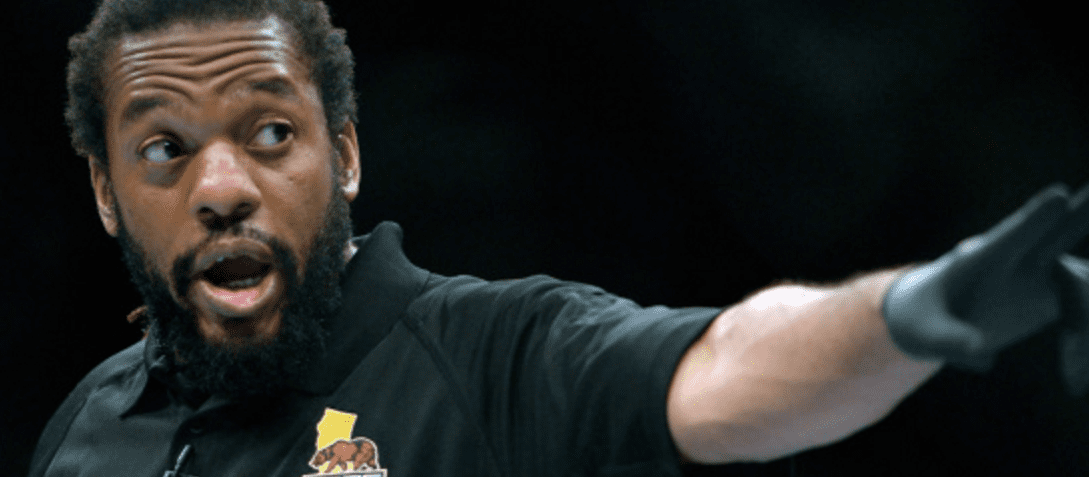 Referee Herb Dean, who presided over the controversial UFC 211 bout between Dustin Poirier and Eddie Alvarez, has explained the reasoning for his decision to declare the fight a 'No Contest' following an illegal knee thrown by Alvarez which ultimately caused the premature end of the clash before the end of the second round.
Following the bout, and on the broadcast itself, several notable figures within the MMA community (including commentators Joe Rogan and Daniel Cormier) suggested that the fight should correctly have been ruled a DQ win for Poirier by virtue of his inability to continue following what appeared to be two illegal strikes delivered by Alvarez.
Speaking with Ariel Helwani on the Monday's edition of The MMA Hour (as reported by MMAFighting) Dean explained what his decision making process, saying that he "definitely stands by" the ruling.
Poirier's management team have stated that they plan to appeal the decision, with the fighter himself since saying that he is doing so to try to secure his win bonus rather than it being over concerns as the result, or his professional record.
Nonetheless, Dean is insistent that he made the correct call and added that what Alvarez did wasn't to be considered a blatant rule infraction.
"I definitely stand by that, ruling it a no contest," Dean said. "His head was over Poirier's back. I can't imagine a way where he'd be able to see his hands or his knees. I believe that he was fighting in earnest and thought that the fighter was not grounded. There's no way I could say that for certain. I attempted to warn him before he went in with that knee, but it was loud in there and I can't say that he heard me. I don't believe that he was trying to fight outside of the rules when he threw that knee. I can't say that he was.
"I rule a downed opponent as supporting weight. Obviously if someone's weight is being supported by their feet and the fence and then they reach down and touch their fingers, there's lots of gamesmanship that used to go on with that. So we started quite a long time ago, it's very established, that we rule a downed opponent as supporting weight. Supporting weight means if you snatch their hand away, they're gonna fall on their face."
It remains to be seen how the Texas Department of Licensing and Regulation will view Poirier's appeal, but if the match official (in this case, Dean) is adamant that the rules were applied correctly it is likely that it might undermine any appeal — though that's strictly speculation at this point.
Comments
comments