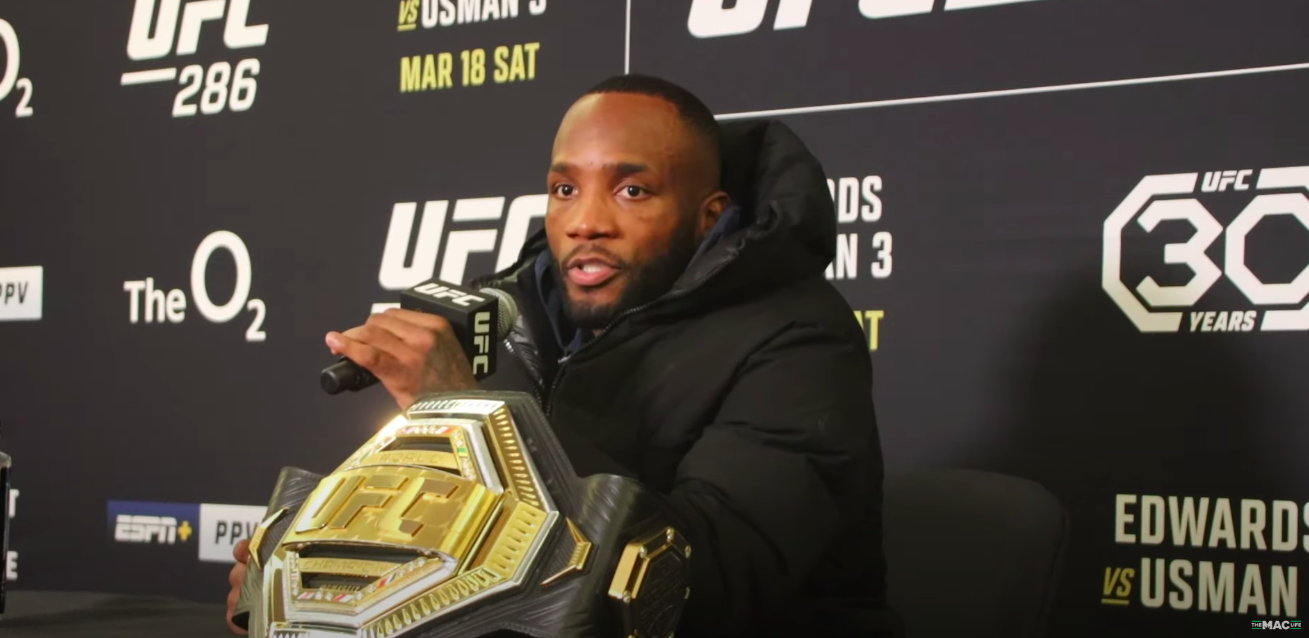 Leon Edwards isn't quite buying Kamaru Usman's suggestion that last August's vicious knockout he suffered at the hands (or left shin) of the Jamaican-born Brit is water under the bridge.
The two welterweight rivals will complete their trilogy this weekend in the UFC 286 headliner in London's O2 Arena, where Edwards plans on doubling-down on the performance which saw him before just the second UK UFC champion ever — despite recent statements to the media from Usman in which he said that he expects to dominate Edwards.
Usman won their first fight back in 2015, and was up on the scorecards last year in Salt Lake City before the fight-ending shot.
"I think if you get knocked out like that, he has to find something to clutch onto, right?" Edwards said to reporters, including TheMacLife, during UFC 286 media day in London. "He needs to build his confidence back up because going into it he thought he could never be taken down, he could never be hurt or knocked out. So I think you have to find something to clutch onto.
"He was winning the fight but who cares? It goes down as you out cold, head shot and that's all that matters. When it's all said and done, winners win and even on my worst day, my worst performance, I still knock you out.
"He's 36 years old, been in many tough fights," Edwards said. "He thought he could never be beaten and then to be sparked like that, that does have a mental thing on you. I know he pretends like he doesn't care and he was happy he got knocked out because of the pressures as champion is too hard and 'I'm happy I got knocked out' but for me that doesn't make no sense.
"So we'll see on Saturday night whether or not it makes a difference but you best believe I'll be trying to knock him out again."
Edwards has also gone as far as suggesting that another defeat could lead Usman to walking away from the sport, as the veteran wrestler continues to battle various injuries in the latter stage of his run in the sport. But whether or not that comes to pass isn't of any particular concern to 'Rocky'.
"Who knows. I've just been saying from his mentality and the way he's moving, I think he's already got one foot out the door already," he said. "Whether he retires after or not, that's up to him."
Comments
comments