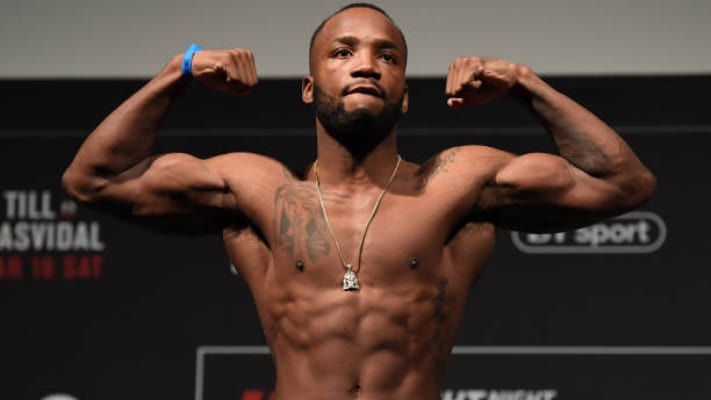 Leon Edwards maintains that he has unfinished business with rival welterweight Jorge Masvidal — but any ideas about arranging a fight between the two are being hampered by Masvidal's poor run of results in the cage.
Edwards and Masvidal combined for one of the more memorable backstage incidents seen in the UFC in recent years when Masvidal doled out his infamous 'threepiece and a soda' in their spat after the 2019 UFC event in London soon after Edwards scored a win against Gunnar Nelson and Masvidal did the same against Darren Till.
Since then, though, Masvidal had distanced himself from a fight with Edwards but changed his tune in the last 12 months or so as Edwards continued his ascent up the rankings which would ultimately culminate in him handing Kamaru Usman his first defeat in the UFC in August to claim the promotion's 170-pound crown.
And speaking to Sky Sports, Edwards said the fight still interests him but that Masvidal has some significant work to do to make it a reality.
"Masvidal is the one I definitely want to have, but because he keeps losing it's difficult to make it make sense for the company, you know, even for the fans, to sell it," Edwards said, via MMA Junkie. "I know it'll probably sell as far as the back story of it.
"If Masvidal goes out and gets a big win, then that's a fight that I want. I even said it: I'll give him the (title shot) before that and my coach was like, 'Nah, he doesn't deserve it.' But I was acting out of emotions. So whoever comes, No. 1 contenders or money fights, for me, it doesn't matter. I believe that I am the best."
The two came close to fighting at UFC 269 last December before Masvidal withdrew from the fight through injury.
Masvidal has lost all three of his most recent fights, twice to then-champ Usman and more recently in March of this year when he was routed by former friend and training partner Colby Covington. Masvidal remains in legal quarrel with Covington stemming from an incident outside a Miami steakhouse some months later in which Masvidal allegedly assaulted Covington in an unprovoked attack.
Comments
comments