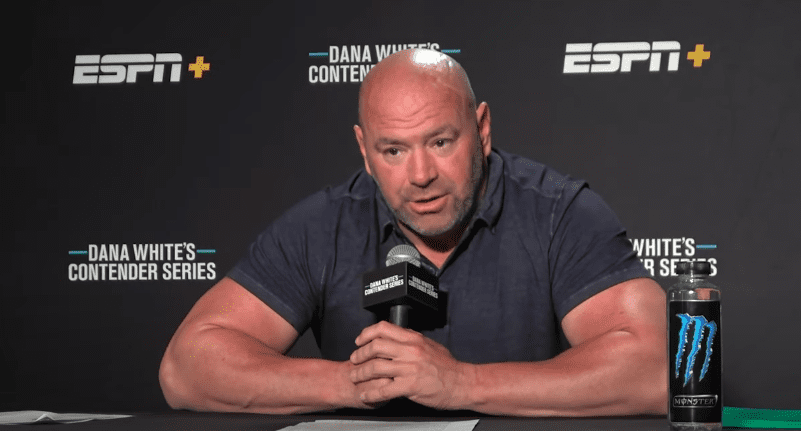 Dana White certainly isn't mincing his words when it comes to his ongoing feud with Oscar De La Hoya.
De La Hoya has been a frequent critic of White regarding the issue of fighter pay in the UFC, rekindling it last weekend with a tweet in which he praised Alexander Volkanovski for the manner of his win against Brian Ortega — but told the Australian that under White he was making around "1/20" of what he should be making.
This also comes after the likes of former champions Jon Jones and Henry Cejudo have also expressed their dismay at some of the UFC pay packets on offer.
But this time, Dana White isn't having any of it. Speaking to the media, including The Mac Life, in Las Vegas on Tuesday night, White came prepared with a host of handouts for the media — and also let loose on De La Hoya to a point that he hasn't in the past.
Check out our video below:
"He is a lying, two-faced, hypocritical sack of sh*t — and I hate him so much that I love to prove that he's a lying, hypocritical, two-faced piece of sh*t," White said after asking his staff to pass out fact sheets to the assembled reporters, starting with De La Hoya's promotion of an MMA fight between Chuck Liddell and Tito Ortiz a few years back.
"All the former UFC fighters who were on his card made more in their last [UFC] bout than they did for his event," White said. "Most of them made more in multiple or all of their UFC bouts, right? So 17 of the 22 fighters got less than the starting compensation in the UFC, the guys who fought on his MMA card. Now, where I'm going with this is this asshole, every time he opens his mouth, acts like, No. 1, 'Oh, you're not paying your fighters. Why are the fighters not being paid?' And he acts like when he puts on an event, like he pays more than we do or something.
"Yeah, you pay f*cking Canelo [Alvarez] a sh*tload of money, who you couldn't even hold on to, you couldn't even keep. He f*cking left you too, right? How about this: I have 650 fighters under contract. He had f*cking one that mattered. He couldn't keep him.
"Twelve of the 22 fighters got compensated less than what we pay kids on the Contender Series," White also said.
"Remember the big narrative for that one was Chuck and Tito are going to make more than they ever made?" White asked. "Yeah. The last time Chuck Liddell made less than $250,000 in the UFC was in August 2004 at UFC 49. OK? The last time Tito Ortiz made less than $250,000 in the UFC was February 2005 for UFC 51. And just for the record, that was when we were still $40 million in the hole. We weren't making money.
"So think about this: Chuck Liddell, his last fight in the UFC, Chuck lost five of his last six and he still made on his last fight in the UFC 10 times more than what Oscar paid him. Tito Ortiz won one of his last nine fights. Tito Ortiz's last nine fights, he won one. He made 12 times in the UFC for his last fight what Oscar paid him.
"So there's another f*cking lie from Oscar De La Hoya."
"What you've been handed, I could've brought 30 of these," White said of the information disseminated to the media. "I brought one because it's June 9, 2021. OK? This was a fight that just happened in June. It's a Golden Boy Promotions fight that this dickhead put on, OK?
"There were nine fights, 18 fighters. The total purses paid for every fight was $36,500. Total. The average purse per fighter is $2,000 on a Golden Boy De Le Hoya card. … Volkanovski got paid more to wear his UFC Venum kit [at UFC 266] than Oscar De La Hoya paid the entire f*cking fight card.
"I could go on, but I think we all get the f*cking point. He's a liar.
"And there's so much more on De La Hoya," White continued. "He owes people money that fought for him that he hasn't paid. The list goes on and on. Imagine if I still owed a fighter from f*cking a year ago, you would crucifix me on a daily basis. This guy, nobody gives a sh*t. And the only reason [I'm responding to him], I just despise him so bad that every time he f*cking lies, I point it out, and still people don't give a sh*t."
Comments
comments