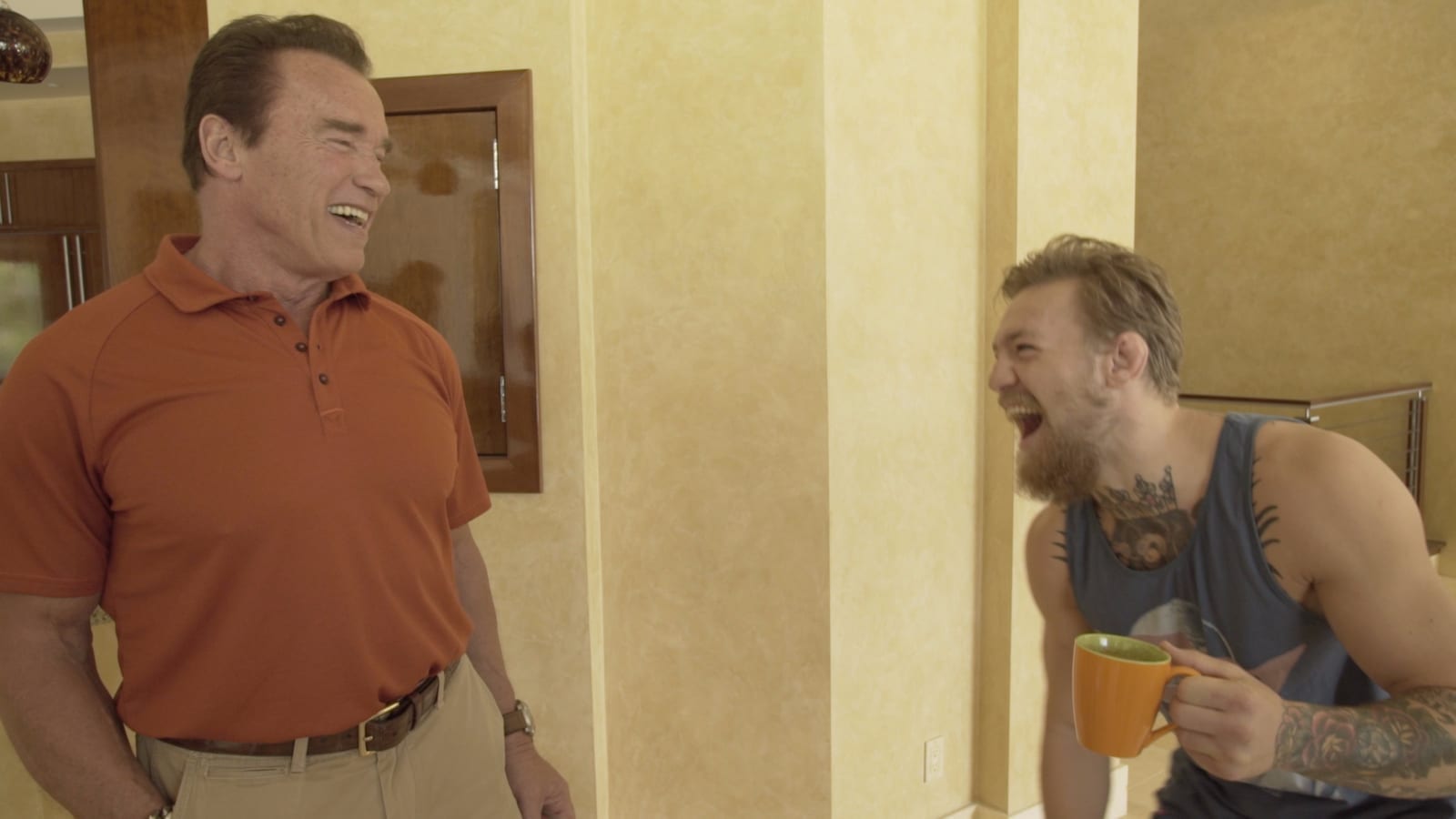 Throughout his mixed martial arts journey, Conor McGregor has made some powerful friends.
One such name is Arnold Schwarzenegger, a noted fan of the Dubliner who has frequently wished McGregor well throughout the course of his career. The pair first met (as was captured in the 'Notorious' documentary) when McGregor was recovering from ACL surgery for an injury he sustained in his win against Max Holloway in 2013, with McGregor later returning the favour when Arnie was scheduled for heart surgery some years later.
And speaking on Monday, McGregor revealed that Schwarzenegger had been in touch as he continues his recovery from his recent leg surgery.
"He had words of encouragement for me and that's going back many years, since 2013 when I had my ACL surgery here also. It's always good to see Arnold," said McGregor, who also provided an update as to his recovery.
"Today was a good day for me," he said. "I beared weight for the first time since surgery I walked on it on the treadmill bearing 50% of my body weight so I'm very happy with it.
"I'm after being doing training, eating well, lifting well. I'm a big boy, you know what I mean? If I don't cut weight I'm going to get big."
Conor McGregor gives an update on his recovery & praises former opponent Jose Aldo.

"What a warrior that man is. It was an honour to share the octagon [with him].

"I would've loved to have do it again. He deserved more, I thought. 1/2

— Chisanga Malata (@Chisanga_Malata) August 30, 2021
Another notable figure who has wished McGregor well is former foe Jose Aldo, the man whom he defeated to claim the UFC featherweight title in late 2015 — and McGregor was also keen to congratulate the Brazilian legend on his recent win against Pedro Munhoz.
"Good to see Aldo had a good win the other week. I'm very happy to see that," said McGregor. "Oh man, I tell you what — what a warrior. What a warrior that man is. I'm honoured to have shared the Octagon [with him]. I would have loved to do it again, he deserved more. I have a lot of respect for Jose Aldo."
Comments
comments