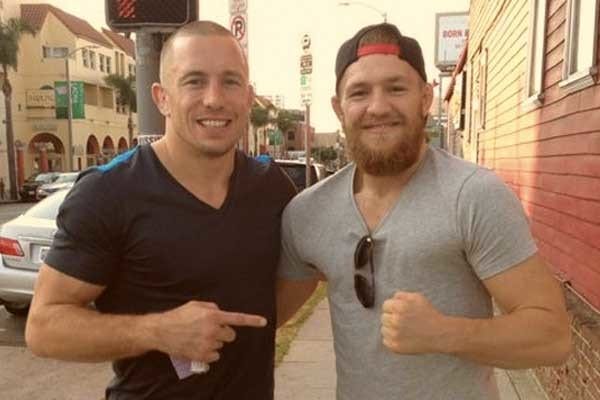 If there is one fighter in UFC history who can return to the top of the game after a serious injury it is Conor McGregor, according to fellow world champion fighter Georges St-Pierre.
The two fighters first met in LA in 2013 where McGregor had travelled to for surgery on the knee injury he sustained in just his second UFC bout against Max Holloway, a fight which the Dublin won by unanimous decision despite suffering the serious injury midway through the second round.
McGregor's surgery was performed by the same surgeon who worked on the St-Pierre when he suffered a similar injury, and McGregor later recounted the experience: "Georges was here for the weekend in L.A. and came down to the doctor's office when he heard I was there and we met up.
"He came out of his way to meet me and show support and give me some advice. He's a motivating field general, he's a humble warrior and for him to come out of his way like that and give me those words of advice. We had an identical injury — it was his right leg and he's an orthodox fighter, it was my left leg and I'm a southpaw fighter so it's basically identical. So I'm with the same people, I had the same surgeon, I'm going through the same rehab. Basically I have a blue print there for me."
And now, as McGregor continues the final stages of his recovery from the broken leg suffered last summer, St-Pierre has again said that he expects the Irishman to return to the top of the sport.
"I think it's possible, I think he can do it," St-Pierre said, via SportsBible. "It's hard when your belly is full and you go eat at the buffet. I think you need to take himself out of his comfort zone and do a training camp and go back to his old route.
"He looks very big, he gained a lot of weight. It would be interesting," added St-Pierre of a potential McGregor run at 170-pounds. "I think [Kamaru] Usman is the best right now. However, it doesn't mean if you're the best that you always get to win. It's not the best fighter that wins the fight, it's the fighter that fights the best the night of the fight so anything can happen."
Comments
comments