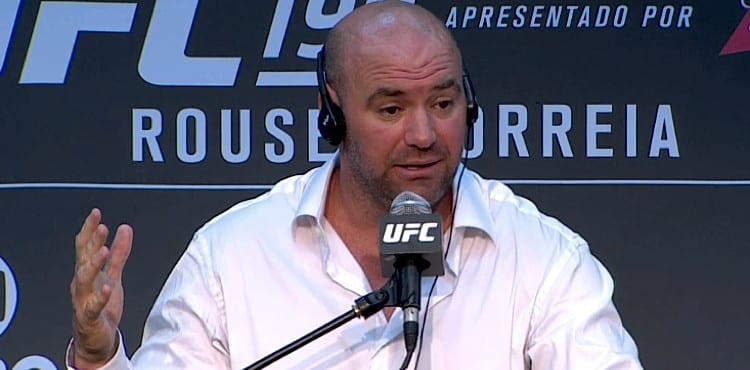 Yesterday, UFC president Dana White appeared on Australian show 'The Project' for an interview with host Waleed Aly. It didn't go well.
Aly asked the UFC boss if, despite White's public comments, incidents such as the McGregor bus incident and the UFC 229 post-fight brawl were in actuality good for promotion, and even went as far as to insinuate the UFC could have had some involvement with the Brooklyn altercation itself and staged it.
According to Aly, no punishment — whether it be from a commission or the police — other than a legitimate suspension by the promotion itself provided suitable admonishment.
Today, White took part in another with FoxSports.com.au, where he was asked about the bizarre angle Aly took. According to White, it's all part and parcel of dealing with those unfamiliar with MMA.
"It's just crazy to me that anybody could believe that that's staged, you know what I mean," White said, speaking with foxsports.com.au. "First of all, the kid [McGregor] gets arrested, goes to jail, is being sued by everybody, and then is not allowed to fight in the state of New York anymore.
"The biggest fight we've ever done, gate-wise, was $18 million in New York, and we can't go back in New York with Conor McGregor now. How does that even make sense? I don't even know how you could believe that that's true. And you know how many people have to be in on that, you know what I mean?
"If it ever came out that we did something like that, it destroys all the credibility of the sport. So for people to even think that, I just can't wrap my head around it — makes zero sense. I was just like, 'Are you guys serious? I can't even believe that you would consider that is true'."
"It happens when you talk to really uneducated people; people who are uneducated about sport," White continued. "First of all, we're sanctioned by the Athletic Commission. If the Athletic commission knew you were doing something like that, that'd be the end of us. We'd lose our license."
Comments
comments