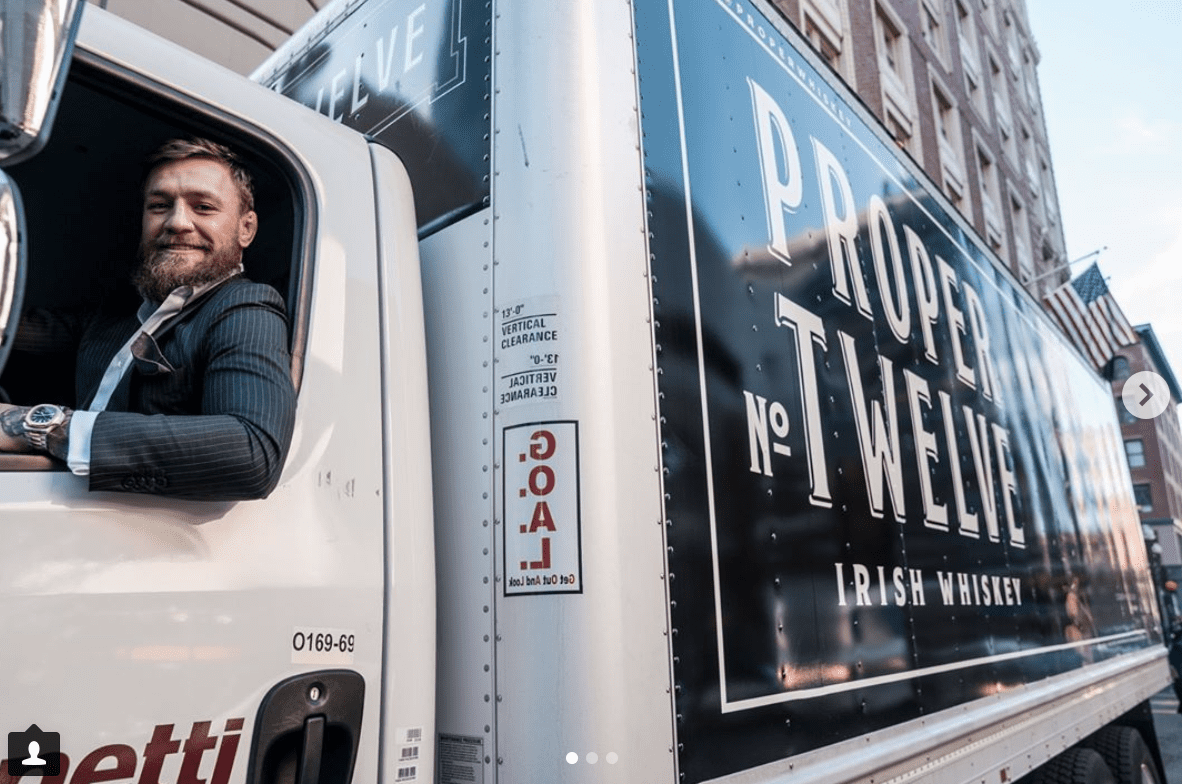 More than a year ago, in the immediate aftermath of one of the most lucrative sporting events in history, Conor McGregor aired his own blend of Irish whiskey for the very first time.
It has had a name change since McGregor brought it to the stage for the press conference following the August 2017 boxing match with Floyd Mayweather, being launched as Proper No. Twelve just a few weeks ago but since then its success has surprised even its most ardent campaigner and the man whose vision proved the impetus for this entire project.
And now, in an interview with entrepreneur.com, McGregor detailed his motivation for expanding his business portfolio, as well as offering advice to others who hope to chase a similar path.
"The decision to make my own Irish whiskey was very natural, almost inevitable," McGregor said, via MMANYTT. "I've always loved Irish whiskey — I'm an Irishman after all. My late grandfather played a huge role in my taste for Irish whiskey. It was under his tutelage I began to study and truly appreciate whiskey."
McGregor's grandfather, Albert, grew up in the area of Dublin now known as Dun Laoghaire. Now a sprawling seaside suburb, the town was a whole lot harsher than today where a cascade of Starbucks and Nando's exist on each other's doorstep.
"Over the years, I've been approached by many Irish whiskey brands asking me to endorse their product," McGregor continued.
"I have nothing against endorsement deals; I have several with brands and products I believe in, that is no secret. However, something about simply endorsing an Irish whiskey didn't feel right to me — I wanted to create my own, I wanted to do it my way and I wanted to do it right — from start to finish.
"I love Ireland, its land and its people. I was born here, will raise my children here, and I will die here. I wanted to make an Irish whiskey emblematic of our culture as a whole — something that would make my people proud."
View this post on Instagram
The launch of Proper No. Twelve in the Irish market saw well-known retailers move to restrict sale two just two bottles per customer in effort to satisfy the demand. As any marketeer will tell you, when demand outstrips supply that is when you know that you have a commodity on your hans.
"The reaction to Proper No. Twelve has been absolutely amazing," McGregor added.
"I'm extremely humbled and thrilled that consumers are as excited about Proper Twelve as I am! Hundreds of thousands of people from all over the world have been reaching out asking where they can purchase a bottle. I am lucky to have the best fans in the business, and their support and loyalty has definitely played a role in Proper Twelve's success. In 10 days we sold six months' worth of product."
As McGregor's business empire continues to expand, he has impacted a whole new demographic of people interested in his career. Nowadays, he isn't just fielding questions from fans of the street about how to get more 'pop' in a jab, or the correct defensive to particular submission, but also how to best make a name in the business world.
To that, he says there is one indispensable requirement.
"You've got to be passionate about what you're doing," he said.
"Find your passion and chase your dreams, fearlessly. I've had a lot of crazy dreams in my life, and they've all come to fruition because of my passion, hard work and will to succeed. You've got to put in the effort day in and day out to perfect your craft, and never give up. Never settle, never be complacent, stay hungry to learn and always try to be better than you were yesterday. If someone tells you no or doubts your ability, fuck 'em. I don't care what they think.
"I believe in myself and never waiver from that mentality. That's how I got to where I am today. Surrounding yourself with the right people is important too. Loyalty is everything. You've got to have a strong support system, people who genuinely believe in you and want you to succeed. My team — who have become my brothers and sisters — my family and close friends have gotten me to where I am today."
Comments
comments