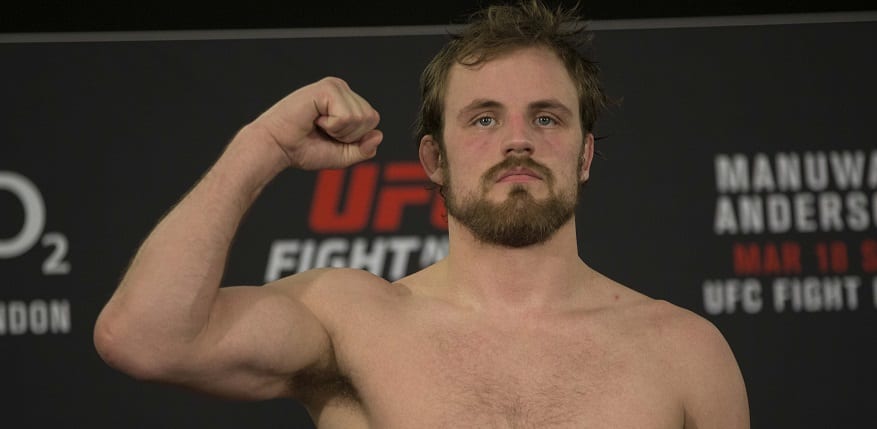 Gunnar Nelson is a man on a mission. 
The UFC welterweight contender is looking for his next opponent after defeating Alan Jouban via second round submission in London last month. Easier said that done, however. One of the themes of Nelson's recent career is that it has been difficult to get opponents to agree to face him. As he explains to Submission Radio, the Icelander says that he would love to face Stephen Thompson next but even if 'Wonderboy' doesn't agree to it, he sees them facing each other before too long.
"I know Wonderboy is probably not looking to fight me at the moment but he said we will end up facing each other", Nelson said. "That's how I see it. I've always said that I don't mind who I fight in which order, I'll definitely end up fighting him and the other guys as well."
"I can see flaws in his game, like anyone. I can see myself beating him. I would like to get that fight and I will get that fight eventually. That second fight against Woodley, it wasn't great for either of the guys I thought. Obviously these are two high level guys but they were a bit too wary. They didn't pull the trigger I thought. The whole fight was like the boring moments of the first fight."
As for the Jouban fight, it followed the blueprint of most other fights where Nelson has faced a high level striker. Jouban, like Albert Tumenov and Brandon Thatch before him, was engaged on the feet before being taken to the floor and submitted. While this appears very much as Nelson's modus operandi, he says that the time spent in the cage continues to improve him as a fighter.
"Spending time in there, you just get more experience", he explained. "That feel, that energy that's inside the cage is different than training. It's good to get some airtime in there if you're not getting damaged. In this fight, he was setting up his strikes with his kicks. I was taking my time a little bit, trying to read and trying to find the openings. What I learned, and what helped me, was strategical thinking. I was taking my time watching him, feeling how he moved and then pulling the trigger."
You can listen to the full interview from the excellent Submission Radio series below.
.
Comments
comments