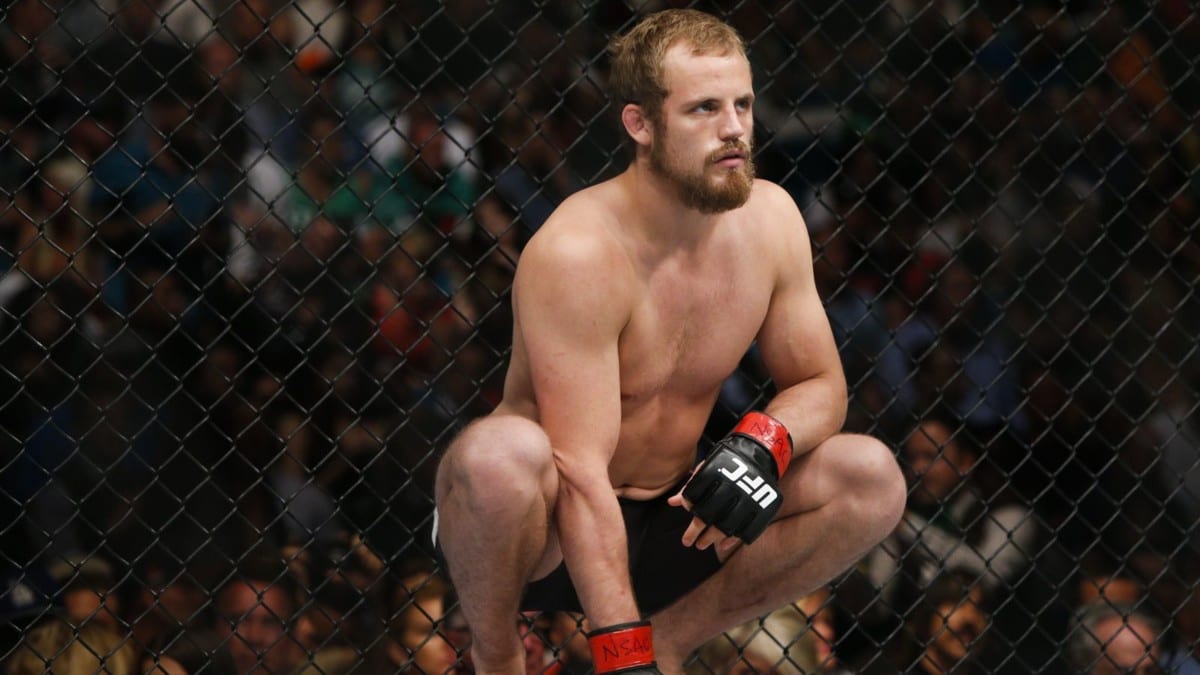 Gunnar Nelson isn't really known for calling other fighters out — if anything, the Icelander has become known for his calm and unmoving demeanour. So to hear him actively asking for a fight with welterweight prospect Darren Till is almost new territory.
The two men got into a (fairly tame) dialogue on social media not long ago, with Till announcing that the 170-pound division was 'running scared' from him, only for Nelson to respond to disagree. After that, the two verbally agreed to fight each other, giving the UFC matchmakers an easy day at the office.
But despite the fan interest, Nelson says he's yet to hear anything from the promotion as to whether or not the contest is happening.
"I had a little back and forth with Darren Till there online not too long ago," Nelson said, speaking on MMAFighting's TheMMAHour. "And I thought that was going to happen. Well, they haven't scheduled anything yet, but it looks like he's calling everyone out. I said I'm here. Nothing's happening, I don't know.
"I'd love that fight. [Because] he's saying he's not getting any opponents, he's a good fighter, he's up there and he's online saying nobody wants to fight him or whatever, and I said 'I'm ready' and that's it. He's ranked up there, and I'm willing to fight. He's good, he's very good."
Im game big boy

— Gunnar Nelson (@GunniNelson) November 10, 2017
@ufc lets make this happen @danawhite @seanshelby @AudieAttar @HalliNelson @John_Kavanagh

— Gunnar Nelson (@GunniNelson) November 11, 2017
As you might expect from Nelson, it's hardly a challenge founded in bad blood. Instead, Nelson is more concerned with getting himself up the rankings, and prove himself in facing someone who appears to be undesired by the rest of the weight class.
Indeed, listen to Nelson describe the scouser's abilities, and you get the sense Nelson has a real appreciation for what Till can do.
"His striking is obviously his main area," Nelson said. "He's got a good sense of his range, and he uses his left hand well. Pretty good kicks as well, and he's a big guy. He's able to use his distance well, you know? Use his size. But yeah, I'm ready if he is."
With the UFC returning to London in March, it seems like a logical fight to put together. Both Till and Nelson have big followings in the United Kingdom and Europe, and together could draw in a fair few eyeballs. So while the UFC aren't saying anything as of yet, Nelson is still waiting positively.
"Nobody is saying anything, but we said we were ready and after all this back and forth online, I basically thought it was on," Nelson said. "I basically thought it was going to happen. I thought that's how it worked, I never really said anything like that online before — not that I was calling him out particularly, I just said I was ready — but yeah. I thought it was on. I guess we'll see.
"I've said it many times before, I don't care who it is. If you say you want to fight, let's fight."
—
Comments
comments