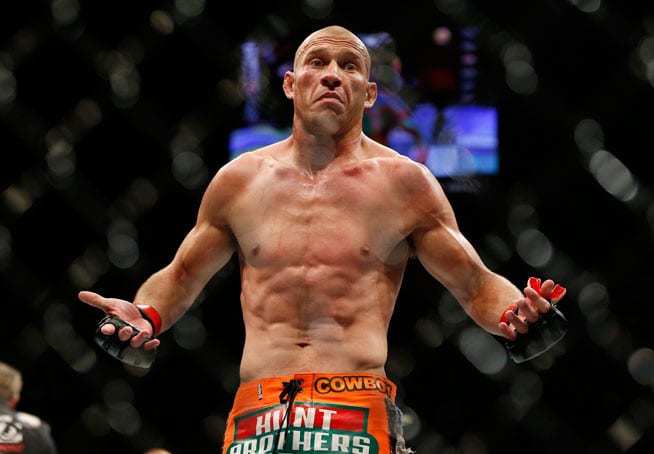 For the first time in his mixed martial arts career of 43 fights, Donald Cerrone is on a three fight losing streak.
And while no one could suggest the men who defeated him (Jorge Masvidal, Robbie Lawler and Darren Till) are anything less than worthy foes, it's a stark contrast in fortunes for Cerrone, who went 9-1 before his current bleak patch.
Combine that with the old suggestion that Cerrone has a tendency to 'mentally break' under the larger spotlights, and it brings forth the question — how is he coping with it all? Apparently, well enough. Just try not to mention it.
"Everyone asks me in interviews, they're like, 'dude, you're on a three-fight losing streak, how is that mentally affecting you?'" Cerrone said, speaking on the UFC Unfiltered podcast. "Fuck, I didn't event think about it until you cocksuckers brought it up."
Next up for 'Cowboy' is a fight with Yancy Medeiros, himself just coming off a brutal war with Alex Oliveira at UFC 218. While the contest promises to be a compelling one, it's a surprise. Prior to it's announcement, Cerrone had said he planned on returning to the lightweight division where he first made his name.
"I'm like 174, 175 [pounds] right now," Cerrone said. "That's my walk-around weight. I want to go back to 155, but my next fight is at 170, of course. I mentioned to UFC I want to go back to 155, and they said 'we'll talk about it and see what's going on after this fight.' Who knows? I'm not here making excuses and saying it's the weight or it's this or it's that. I've just had a bad run of luck, I guess, with getting my ass whipped."
That being said, Cerrone looks at the contest with Medeiros as an opportunity to turn things around. Or maybe not. Either way, he'll just have some fun with it.
"He's on a three-fight win, I'm on a three-fight lose [streak]," Cerrone said. "What the fuck? Somebody's streak must go."
Comments
comments