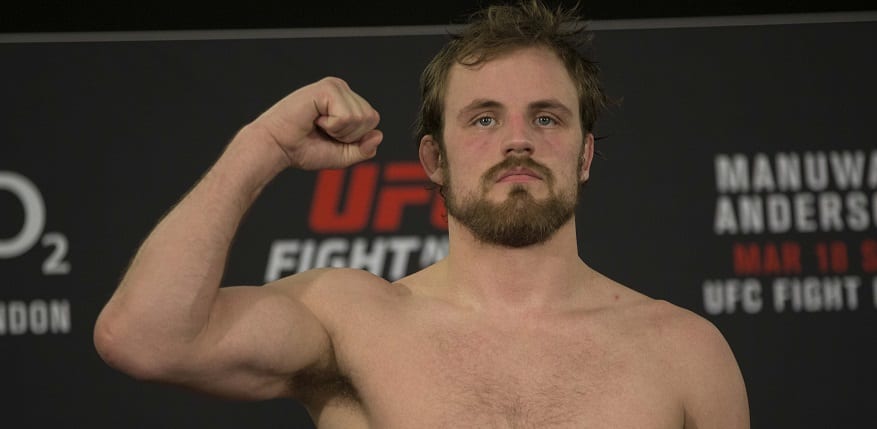 Gunnar Nelson has a pretty successful record when facing strikers. The last three that the Icelander has faced in the octagon, Brandon Thatch, Albert Tumenov and, last weekend at UFC London, Alan Jouban, all ultimately met the same fate.
In all three of these bouts — his three most recent wins, too — Nelson displayed underrated striking before ending the bout with cool calculation as soon as the fight moved to the mat. Nelson is expected to move north from his 9th position when the UFC rankings are updated this week and it is presumed that he will be given a tough assignment for his next outing and, if it's up to his coach John Kavanagh, former two-time welterweight title challenger Stephen 'Wonderboy' Thompson would make for the idea test for his student.
Whats next for gunni? How about this summer we find out who the real karate kid is in the @ufc ? #GunnivWonderboy pic.twitter.com/mvffhFSKWi

— Coach Kavanagh (@John_Kavanagh) March 19, 2017
Thompson's own quest for the 170-pound title ultimately came up short when he was (controversially) out-pointed by champion Tyron Woodley at UFC 209 earlier this month, a bout which followed their majority draw at UFC 205 in New York last November and it appears, judging from the response to Kavanagh's tweet at least, that a public appetite exists to see Nelson and Thompson square off later this year.
Thompson currently finds himself in an impasse in the UFC's welterweight division. He has had two shots at dethroning the current champion and both times has come up short, leaving him in need of some revitalising victories to once again gather steam for a run at the title. From Nelson's point of view, a win over an opponent like Wonderboy could be the platform from which the Icelander's own quest from the title is borne.
Make it happen, Sean Shelby.
Comments
comments