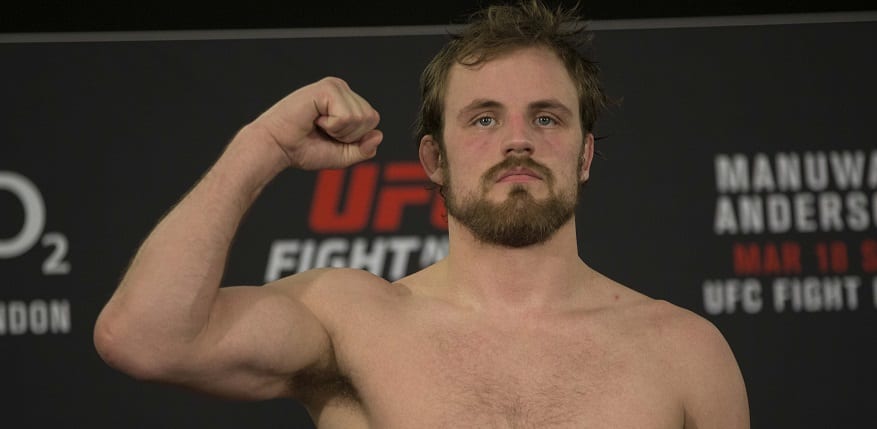 Gunnar Nelson's spectacular finish of Alan Jouban at UFC London earlier this month likely means that a high profile opponent awaits the Icelander the next time he sets foot on UFC canvas. 
As for who exactly that might be remains to be seen and, as Nelson explains, he doesn't particular care who the UFC puts in front of him — he just wants to finish the fight. Six of Nelson's seven UFC wins have come as a result of submission and it is this type of killer instinct which Nelson thinks should be in each and every fighter at this high level of the sport.
"Some of these guys, they walk to their corners and I hear, 'You're up a round,'" Nelson said to ESPN.co.uk. "It sounds to me like they're focused on winning a round. I feel like, if a fighter can finish, he needs to finish. If you want to be a true champion, you need to finish your fights. That's my view on it. If you're a champion and all your fights go the distance, you've shown you can hold a belt against top competition — but I want to be a true champion."
Following the Jouban victory Nelson's coach John Kavanagh suggested that a fight with Stephen Thompson would determine who the real "karate kid" in the UFC's welterweight division was and while Nelson says that is a fight he would accept with open arms, he doesn't spend time worrying about who he will face next.
"That was something [John Kavanagh] cooked up himself," Nelson said of the Thompson challenge. "I'd love that fight, but I hear he wants either Robbie [Lawler] or Carlos [Condit]. That's OK. I'll just meet him down the line. Any of these top guys, I don't mind when I fight them. I'm going to finish them all, or most of them anyway."
The one figure that everyone in the 170-pound fold, including Nelson, is looking at is champion Tyron Woodley. Now that he has moved past the duo of fights with Stephen Thompson, room exists for new challengers to move into and that's exactly the position that Nelson intends to occupy.
"He's a very explosive guy", Nelson said of Woodley. "He has a wrestling background and a very powerful right hand. He's got good reaction times. He's awake. That's something he showed in his fight against [Thompson]. If he wasn't fully aware and awake, he would have gotten caught. He's smart. He stays back. He's not overly aggressive, although he has that killer instinct in him. I think he's good. Maybe more athletic than technical in a lot of ways, but he's a good fighter."
Comments
comments