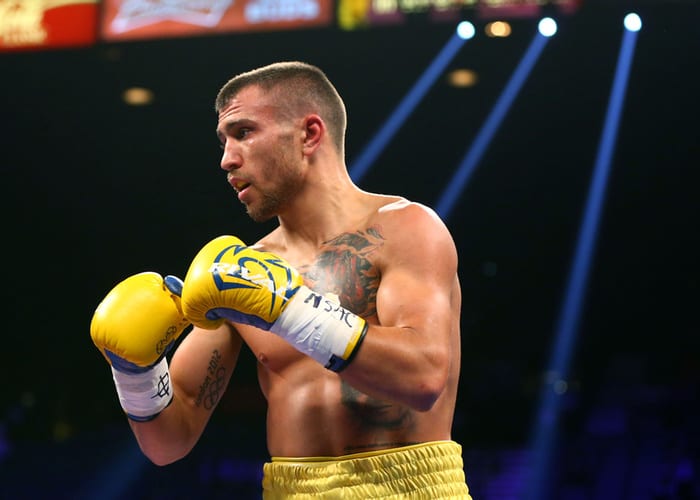 Vasyl Lomachenko could well be the best combat sports athlete on the planet, let alone one of the best boxers alive.
The Ukrainian met Guillermo Rigondeaux in New York City tonight, and truthfully everything seemed over by the second round. Over and over, Lomachenko just proved himself to be the faster, more aggressive  — really, the better — man in the ring.
Rigondeaux came into the fight at 17-0, and while he was the smaller man, many felt he could have offered Lomachenko challenges that others had been unable to do. Instead, Lomachenko styled on the Cuban, who resorted to ducking low and grappling with Lomachenko at every opportunity. In round six, Rigondeaux was deducted a point for egregious holding. When he got on his stool, both Rigondeaux and his trainers said his hand was too injured for him to continue.
Lomachenko remains the WBO super featherweight champion, and moves to 10-1 in professional boxing. It's the fourth man to refuse to come out and face the Ukranian, something that Lomachenko made note of in his post fight interview.
"Maybe I change my second name, maybe my name is No-mas-chenko," Lomachenko said. "He's a good fighter, he's a king in the boxing. It's not his size, it's not his weight, so it's not a big win for me because it's another weight category."
Vasyl Lomachenko vs Guillermo Rigondeaux #LomachenkoRigondeaux #LomaRigo Oh My God people!! pic.twitter.com/JPwtRYec15

— Zombie Prophet (@ZPGIFs) December 10, 2017
Vasyl Lomachenko vs Guillermo Rigondeaux #LomachenkoRigondeaux #LomaRigo And he quits pic.twitter.com/Nw9j3kEY4w

— Zombie Prophet (@ZPGIFs) December 10, 2017
#NoMasChenko #LomaRigo #LomachenkoRigondeaux pic.twitter.com/39sWZa09us

— Zombie Prophet (@ZPGIFs) December 10, 2017
—
Comments
comments