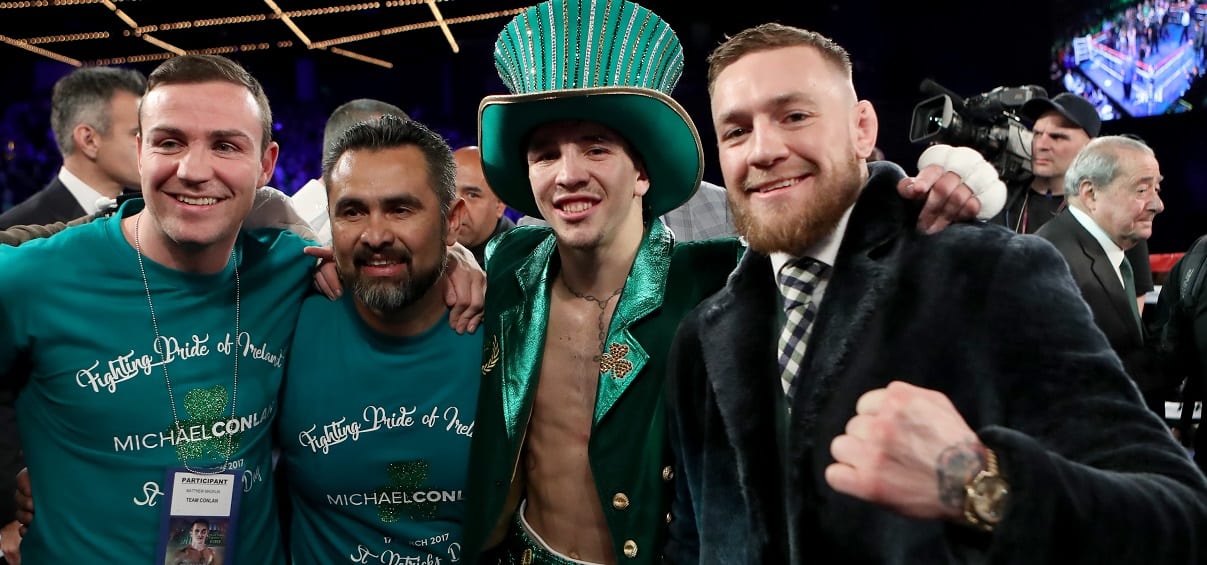 Michael Conlan added to his budding professional boxing record tonight in New York City after defeating Luis Fernando Molina during the undercard of Vasyl Lomachenko vs. Guillermo Rigondeaux.
It was a good performance by the young man from Belfast. Conlan showed an improved technique from his previous outings, handing out nice jabs from either hand throughout the contest. The taller fighter, Conlan's reach was a tough adversary for Molina to overcome, and had Conlan in charge for much of the bout.
In the fourth through sixth, Conlan started upping the pressure, landing combinations and a number of fantastic counter uppercuts. In the end, while Conlan's work rate earned him the win, the knockout wouldn't come, and Conlan got the win via a judges decision for the first time of his career.
"I felt comfortable in there," Conlan said in his post-fight interview. "I thought I used my boxing skill very well. He had a tough head,  hurt my knuckle in the third round I think, but I'm happy to get the rounds, because my next fight is back here March 17 in the garden, and I want it to be eight rounds.
"He has a tough head, but I'm happy.
Michael Conlan vs Luis Fernando Molina #LomachenkoRigondeaux @mickconlan11 @TheNotoriousMMA pic.twitter.com/q9u9RaW8kQ

— Zombie Prophet (@ZPGIFs) December 10, 2017
"I think I want to psh on in 2018. … I'm looking forward to coming back here to an Irish dominant crowd."
Conlan turned professional in March of this year, after an exceptional amateur career. He shot onto the world stage after a controversial decision at the 2016 Olympics, where he called the judges integrity into question.
Comments
comments