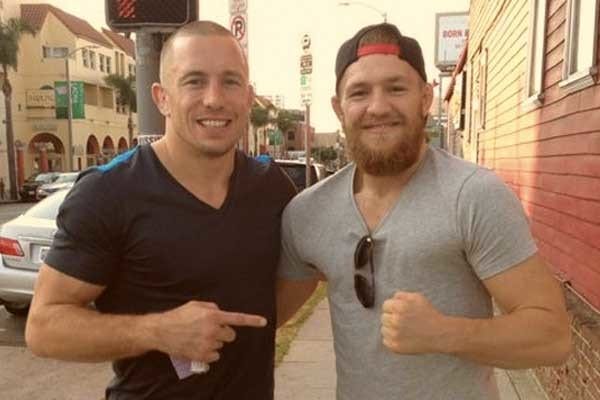 There aren't many fighters in the history of mixed martial arts who have seen greater success than Georges St-Pierre.
The Canadian legend, who later this year will challenge Michael Bisping for his UFC middleweight title, has already taken part in thirteen title bouts throughout his career, has fought in front of the largest live audience the UFC has ever seen in North America and has been named Canadian athlete of the year a remarkable three times.
But when it comes to the being the biggest seller in the sport's history, St-Pierre says that there is only one fighter who can rightfully claim that title: Conor McGregor.
St-Pierre last fought in the UFC in November 2013 back when Conor McGregor was still rehabbing an injury he suffered in his second UFC bout with Max Holloway some months prior and since his self-imposed hiatus McGregor has gone on to become one of the biggest stars that the UFC has ever seen, winning two UFC titles and breaking all manner of pay-per-view and live gate records along the way.
In an interview with Russia Today, St-Pierre gave his thoughts on McGregor's dominance of mixed martial arts in recent years.
"I think he's a great fighter", St-Pierre said. "I think he's a really great fighter. He's a very charismatic fighter. He's the biggest seller in the sport of all time. He's the biggest draw. But I think now he's going to fight Floyd Mayweather, I've heard, in a boxing match.
"I think it will happen. I know Floyd will never fight Conor in a mixed martial arts fight, but Conor could fight Floyd in a boxing match. I don't think he's going to win, I don't think he's going to win at all, but I think he wants to do it and he's going to make a lot of money out of it."
An eventual match-up between St-Pierre and McGregor has been mooted by many in what would likely be another record-breaking event, and St-Pierre's striking trainer Freddie Roach says that a bout between the two would be the perfect way for his student to walk away from the sport for good.
Speaking to FightHub TV, Roach said: "Who wouldn't want that fight? It's a big fight. I mean we'd have to maybe cut weight and meet in the middle somewhere but there's a lot of negotiations still to happen of course but who wouldn't want that fight?"
As Conor McGregor has said on numerous occasions, he likes options and few options in the MMA realm would be as potentially lucrative as this particular one.
Comments
comments