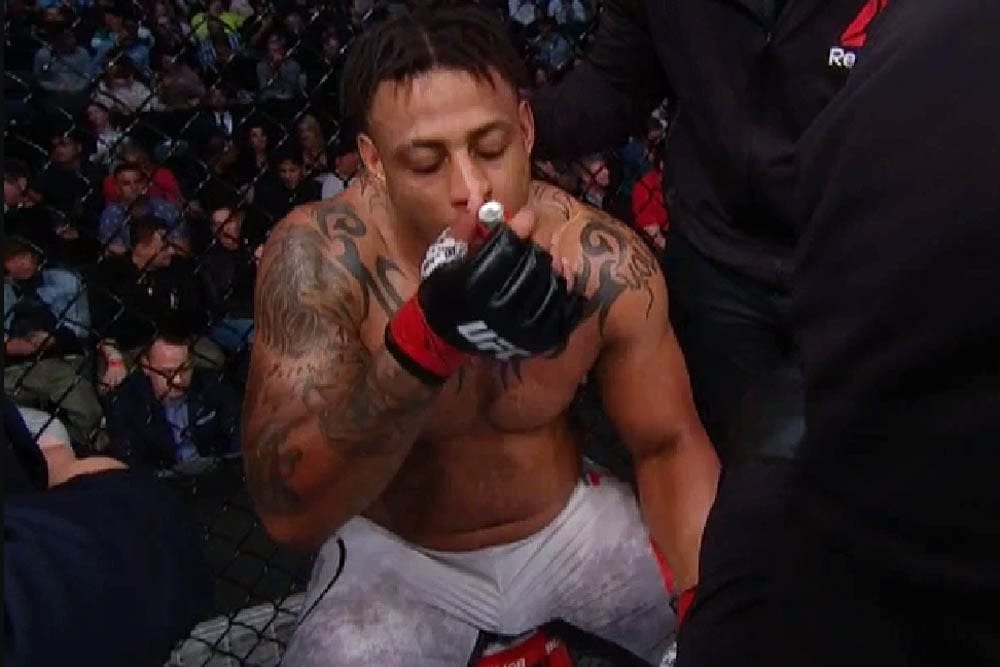 Greg Hardy's decision win over Ben Sosoli has been overturned to a no contest.
The controversial heavyweight continued his bizarre streak of having odd moments in fights tonight at UFC Boston, as Hardy asked to use his inhaler in between rounds during his fight. An in-cage investigator asked if it was medically required, and Hardy responded it was "USADA approved."
The investigator handed over the apparatus, and Hardy used it before fighting on in round three. On air commentators Dominick Cruz and Daniel Cormier were flabbergasted by the move, and Marc Ratner confirmed it was "completely illegal" on the broadcast.
While Hardy was given the decision win inside the cage, beating Sosoli two rounds to one, discussion on the controversy continued afterwards, and eventually the commission ruled that the investigator was wrong to give Hardy the equipment.
In a statement released following the chaos, Hardy stated he was aiming to go the distance and show off his improved skills, and he didn't realise using the inhaler was not allowed.
"I was in the ring, me and my coach asked the commission if it would be ok to use my inhaler and they said yes, so I took it," Hardy said. "I'm still new guy in this sport, I did what I do in every situation – I asked permission, I got permission and I did what I was told. In this fight, I wanted to prove I was a fighter. I said before the fight that I wanted to go out and put on a showcase and show the leads and bounds that I've improved by.
"It was all about going the 15 minutes, showing some different weapons and not making so many rookie mistakes and just getting jabbed in the face. It was a Din Thomas showcase, I have a lot of weapons and a gas tank to use those consistently over all three rounds. Right now, we're going to go back to the gym, put it together and let my team make the next decision."
Comments
comments