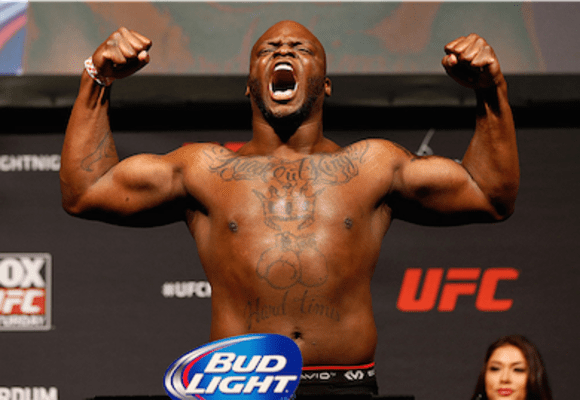 It was supposed to be a fight that practically guaranteed fireworks.
Two UFC heavyweights, both known for their concussive KO power, locked in a cage with each other for fifteen minutes? What could go wrong? Well, sometimes a fist-fight doesn't follow the presumed script that had been written for it and that was exactly the case when Derrick Lewis and Francis Ngannou engaged in a three-round snoozefest with barely a punch thrown in anger throughout during their fight in the summer of 2018.
Lewis was awarded the victory on the night in a fight in which Ngannou threw just 11 strikes in an apparent hangover from his heavyweight title defeat against Stipe Miocic some months prior.
The lack of action — particularly when the fight promised so much more — has led to it being considered among the most disappointing fights in recent UFC history, and for that reason 'The Black Beast' wants another opportunity to showcase a more exciting brand of fighting.
Derrick Lewis says he liked the Adesanya-Romero fight because now people will can longer say his fight against Francis Ngannou is the most boring fight of all time. 😂 From today's @espnmma IG live. pic.twitter.com/WhU0CVyHRT

— Ariel Helwani (@arielhelwani) March 19, 2020
"We gotta do a rematch, me and Francis, we gotta do a rematch," Lewis said in a Twitter Q&A with ESPN's Ariel Helwani.
"Man, we got to because I had back problems and I wasn't training the way I was supposed to for that fight. And so I'm on it now, so we got to. I guarantee it will be more entertaining than what it was. It'd be at least one punch more than it did last fight."
Lewis also said that he was glad to see the recent Israel Adesanya vs. Yoel Romero world title fight because it actually eclipsed his fight with Ngannou for the most boring bout in recent years.
Comments
comments