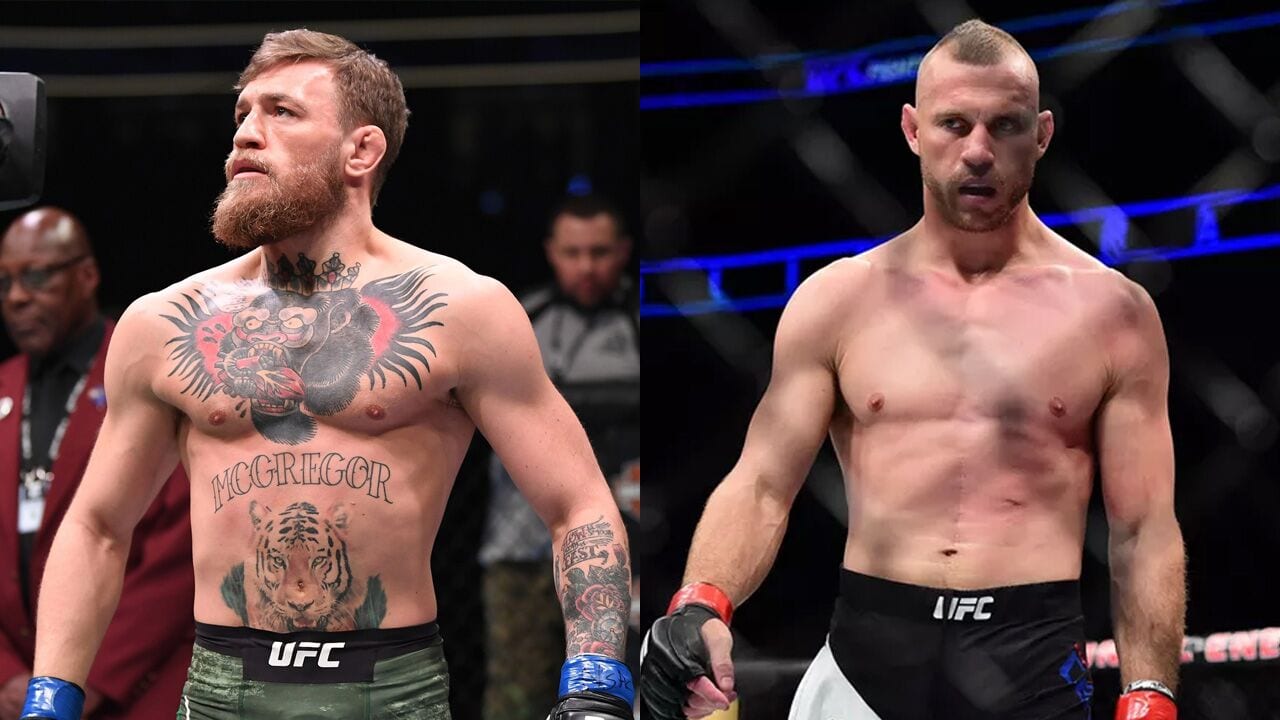 On Saturday, Conor McGregor will make his long-awaited comeback to the cage against Donald 'Cowboy' Cerrone and despite the lack of antagonism between the two combatants in the lead-in, this is a fight that had its genesis many years ago.
UFC 178
Back in September 2014 McGregor took on the Dustin Poirier in a fight some credit as being his 'coming out party' in the UFC. McGregor would win the fight via first round TKO, setting a clear path towards eventually winning the undisputed UFC featherweight title three fights later.
The very next fight on the card would feature two men with whom McGregor would become very familiar with in the following years when Cerrone fought future champion Eddie Alvarez in the co-main event, defeating him via unanimous decision.
UFC Fight Night: McGregor vs. Siver
The roles were reversed in both men's next fight. The following January, McGregor was handed his second UFC main event slot against Dennis Siver in Boston. Cerrone was tasked with competing in the co-main against former UFC champion Benson Henderson. Cerrone won the fight by unanimous decision.
In footage shot before the fight, Cerrone can be seen asking McGregor if it is cold in Ireland, with McGregor responding by asking how Cerrone was feeling in advance of his fight. Cerrone even implores his future opponent to give Siver "hell" — a promise which was fulfilled by McGregor in his second round finish of the German striker.
UFC Go Big Press Conference 
The rivalry switched up a gear at a September 2015 presser to promote the UFC's upcoming marquee fights, with McGregor on hand in advance of his upcoming world title bout opposite Aldo while Cerrone was promoting his own title lightweight title bout with then-champ Rafael Dos Anjos.
McGregor was his usual fiery self at the presser, taking aim at anyone and everyone in his line of sight — including the 155 pound champion, with whom McGregor forecasted a future fight. Cerrone took umbrage.
"Conor has no right coming up to '55. There's no way; he's not gonna stand a chance," Cerrone said. "We're too big for him, too strong, so you can take your little English a— and get on."
The response didn't take long to come and it was very much no-holds-barred.
"You're too slow and too stiff, you're as stiff as a board. I'd snap you in half," McGregor said. "I see stiffness when I look in that 155-pound division. Slow, stiff. I feel like they're stuck in the mud almost. The featherweights they hit like flyweights. So, it's nice down there just destroying them and killing that whole division. But I have my eye on that 155 division, and I see them all stuck in the mud.
"You beat nobody, and you think you're going to come up to 155 and make a statement? Come on man, sit the f—k down," said Cerrone, to which McGregor responded simply.
"Yee-haw!"
UFC 202
Both fighters were once again part of the same card in August 2016 at UFC 202, to be headlined by McGregor's five round decision win against Nate Diaz in a fight hailed as one of the most exciting in the organisation's history. Cerrone, for his part, defeated Rick Story in a welterweight fight after with a stunning combination of strikes midway through the second round.
The main event would set up McGregor's historic capture of the UFC lightweight title from Eddie Alvarez a few months later.
UFC Fight Night: Cejudo vs. Dillashaw
Cerrone extended his record for the most headkick KO's in UFC history with a second round finish of surging contender Alexander Hernandez in Brooklyn, New York in January 2019, after which McGregor paid tribute to Cerrone's performance on social media.
For a fight like that Donald, I'll fight you.
Congratulations.

— Conor McGregor (@TheNotoriousMMA) January 20, 2019
UFC Fight Night: Cerrone vs. Iaquinta
Cerrone earned his third successive win when he outpointed Al Iaquinta through five rounds in Ottawa, Canada in May 2019, after which he told UFC commentator Michael Bisping of his desire to set up a fight with McGregor.
"I want the title, whatever that means man," Cerrone said. "Unless Conor McGregor, you want to fight me in July. I'm ready. Fourth of July, let's do it."

Comments
comments