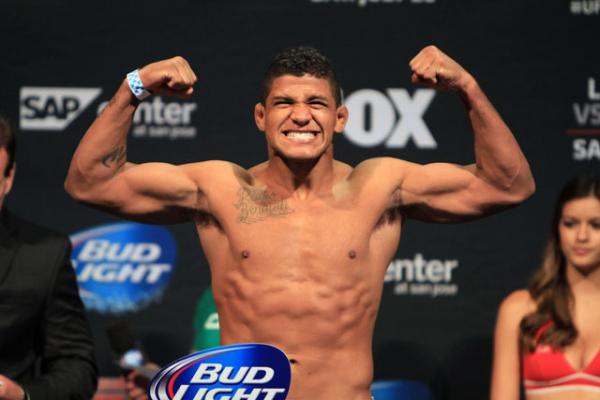 Gilbert Burns finds himself in an interesting position ahead of next week's UFC 273 in Florida.
The Brazilian, who trains in the Sunshine State at Sanford MMA, is considered by most to be by far the sternest test that the undefeated Khamzat Chimaev will have faced so far in his career — and as Burns plots a course back to title contention, he says that he will be the first true indication of whether or not Chimaev is 'for real'.
The Chechen-born Swede has blazed a path of destruction since debuting in the UFC in the summer of 2020, beating four opponents without meeting much resistance whatsoever. But Burns says that his run of 'gimme fights' ends next week — after which he, and the world, will have a better grasp of Chimaev's true potential.
"It's a lot of hype, but if it's justified, I don't know," said Burns of his upcoming opponent to Fighter's Only.
"But I do know he's a very tough opponent and I gotta respect his abilities. But we'll test (him). He's gonna be a good test for me. He's super confident, undefeated, looks like a very big guy (and) has a very hard weight cut. But I'm looking forward to it.
"I think he's very, very tough. But I do believe I'm going to get the win, so I'm very confident. I think he's a little bit overconfident. But, you know, I have a lot of experience being in this game, fighting the best guys in the world. So for me, it's going to be another big fight. Nothing more than that."
Much of Chimaev's UFC career has seen him immediately take fights to the canvas but Burns says that he expects Chimaev to have a different strategy this time, and to keep the fight standing for fear of Burns' world class level grappling.
"I do think he gonna try to get it done quick," Burns predicted. "I think he's gonna come very strong in the first round, maybe with a little bit more striking because I'm not a striker. I can strike, but I'm not a striker, I'm a natural grappler.
"I do think he's gonna try to be a little bit more of a striker but who knows? That's what I think, but I'll be ready with the wrestling, with the grappling, with the striking. I do think he's going to strike a little bit more, that's the feeling that I have. But, you know, one good punch might change that and he goes back to wrestling, so we'll see."
Comments
comments