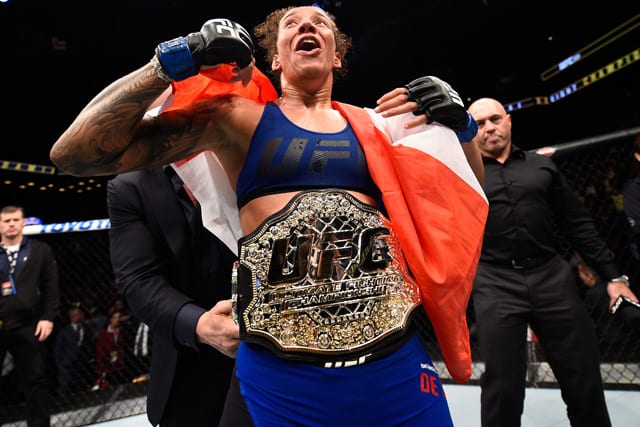 For the past few months, there has been a question mark over the head of Germaine de Randamie.
The first ever UFC women's featherweight champion has been virtually radio silent since her victory over Holly Holm at UFC 208. In February, de Randamie had mentioned she may require hand surgery, and with the looming Cris Cyborg getting restless, fans have been wondering whether or not the Dutchwoman had elected to get the procedure done.
Then, on Thursday, a Facebook post on Holly Holm's official page sent shockwaves through the MMA community, after the former bantamweight champion stated that she had heard a rumour de Randamie was preparing to announce her retirement.
"Rumor has it that Germaine de Randamie wants to retire," stated the post. "I hope that isn't true; She is a true warrior, however – I want my belt. Looking forward to a rematch!"
According to de Randamie's manager, Brian Butler-Au, that post stems from false information.
"She's got things going on at home and stuff going on at police academy," Brian Butler-Au said, speaking with MMAjunkie. "The UFC's aware of it, and we are working through it. That's all I can say at the moment.
"Everything that you're hearing right now is just rumour mill."
Re: GDR, her immediate future is up in the air. Not likely for 7/29. Maybe 4th quarter 2017. Even been some talk of vacating. All TBD.

— Ariel Helwani (@arielhelwani) April 28, 2017
—
Comments
comments