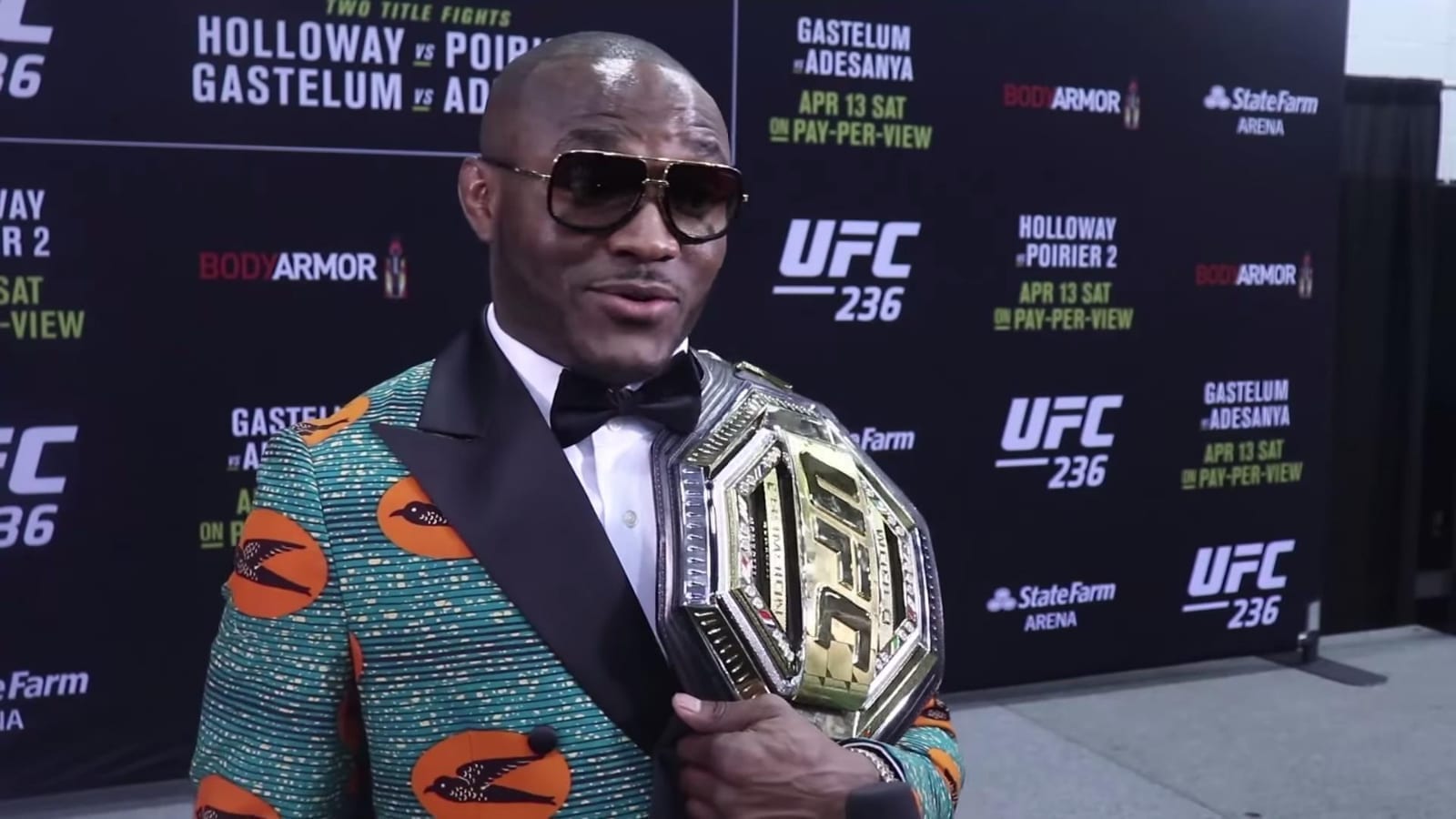 His last three fights have left little doubt that Kamaru Usman is the best welterweight fighter currently on the UFC roster.
Each of Tyron Woodley, Colby Covington and, most recently, Jorge Masvidal have tried to engineer a situation to get past the 'Nigerian Nightmare' but each man has ultimately come up short through what amounted to (almost) 15 rounds of dominance in his three most recent performances.
There currently exists a squabble between Gilbert Burns and Leon Edwards as to who should be next for the 170-pound champion. Burns, you will no doubt recall, had been granted a title shot ahead of UFC 251 before a positive Covid-19 test caused him to be ruled out while Edwards — also offered the fight — was forced to turn it down due to training complications amplified by the global health crisis.
Usman, though, isn't forgetting that there is another welterweight legend out there who he thinks could be tempted into a fight: Georges St-Pierre.
The former two-division champion St-Pierre hasn't fought since beating Michael Bisping for the middleweight title in November 2017 but had toyed with the idea of emerging from retirement for a fight with Khabib Nurmagomedov more than a year ago, but if he wants a true challenge (and in the weight class he dominated for all those years) Usman says there's only fight for him.
"Right now we're tied for the record- most consecutive wins in the welterweight division – and Georges is a tough guy, Georges is a legend," Usman told TMZ via MMA Fighting.
"Georges is a guy who has put his time in and is considered one of the best and that's where I aim to be. Georges can still do it. He proved it, what, two years ago when he came back, that he can still do it. And I feel that he's still able to do it. He's still able to come in and be that opponent where people are unsure. Like, 'You know what? We don't know if Usman's got this one.'
"I think Georges St-Pierre can be that guy and that's what I'm looking for. Those are what champions are made of. When you get that feeling, 'I'm not sure. This one's a tough one. I don't know how this one is gonna go but I'm gonna damn well go out there and compete and see what happens.' I think Georges St-Pierre can be that guy and if Georges wants to do it, Georges can get it too."
View this post on Instagram
Of course, numerous hurdles remain for this to be even remotely possible — principally the notion of whether or not St-Pierre could be tempted to return to the cage at 39 years of age. Usman, though, says that GSP's legacy is set in stone.
"Georges knows what he's done with his legacy," Usman said. "He's cemented his legacy. He's put in the time, he's put in the work, and that's why he sits at the top as one of the best ever. So I'd love to test myself. I'm a martial artist just like he was a martial artist and if he still has some fire burning in that oven, let's test it out. Let's go out and see if he can still do it."
However, Usman also maintains that he will go in the direction that the UFC set for him. GSP would be nice, but Burns and Edwards are also worthy candidates.
"If it is, it is. I don't discriminate when it comes to an opponent," Usman added. "That's one thing that the company, you can quote me on that. I don't say 'No' to anybody. If the company feels like that's the next guy or if it's GSP or if it's Leon Edwards, then that's the next guy. My job as the undisputed champion is to stay champion. So whoever they put in front of me, their dreams of being champion quickly turn into nightmares."
Comments
comments