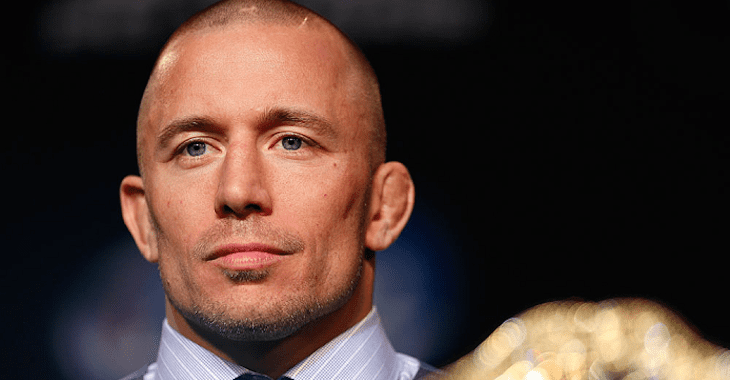 Georges St-Pierre is uninterested in a return to fighting to meet welterweight champion Kamaru Usman.
Usman's win over Gilbert Burns at the weekend put his name in the conversation as one of the greatest welterweights ever, and as such immediately linked him to St-Pierre, a man regarded as one of the best of all time. But, while St-Pierre was interested in returning from retirement to meet Khabib Nurmagomedov, it would appear a fight with Usman doesn't hold the same appeal.
"To go back and give three months of my life in a training camp to get a win over Kamaru Usman doesn't get me motivated," St-Pierre said, speaking on The Good Show. "I don't think there's anything that would get me motivated to go back to competition now. I'm not sure."
Part of that, St-Pierre notes, is the current state of the world. The majority, however, is just the sheer lack of need to do it.
"Try to put yourself in my shoes and try to come back. First, if I come back to fight Kamaru Usman, I would literally have to leave the country," St-Pierre said. "I would have to bring my coaches somewhere, find a base camp, fly in training partners to get ready for Usman. But leaving my home, I don't want to do it. I'm healthy. I'm wealthy. It's not appealing to me to lose three months of my life, the stress, to try and get a win over Usman. As time passed by, it's getting less and less appealing. And I don't think there's anybody now that would make me come back. I'm good. I will always train and be in shape."
All in all, it would seem we've seen the last of St-Pierre in the Octagon.
"I'm 39 – going to be 40 soon. If I would have done something, it would have needed to be something that was really special that would really get me to the core of my motivation," he said. "I don't have the same motivation right now. It's not appealing to me. I'm a big fan. I like to watch fights. But I look at them with the stress and I'm like, 'Hell no. I'm not doing it.'"

Comments
comments