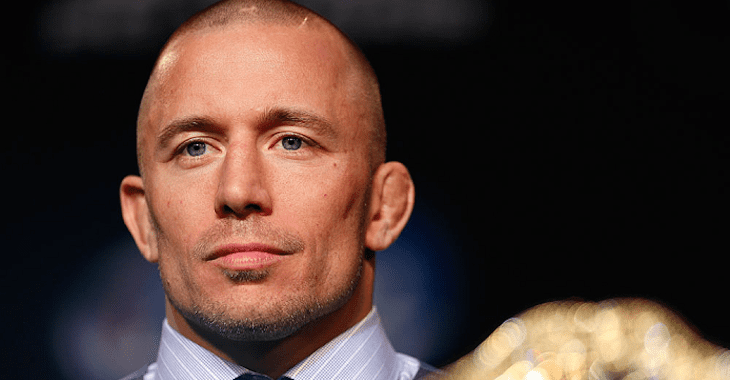 Georges St-Pierre might have been paying attention to Conor McGregor vs. Khabib Nurmagomedov closely, but that doesn't mean we can expect him to just waltz back into the UFC to face the winner.
Having long been linked to 155-pounds — a division he's never fought at but frequently suggested he could compete at — St-Pierre vs. McGregor or Nurmagomedov had (pre-UFC 229) seemed like the most obvious move for the UFC, with St-Pierre's success at the box office well known.
Instead, during an appearance on the Ariel Helwani MMA Show this morning, St-Pierre poured water on a possible Nurmagomedov contest, stating he's convinced the UFC wouldn't be particularly open to him fighting for a third world title uncase he left the division behind him once again.
"I don't think the UFC would want me to fight for a title at 155, because they don't want me to run off into the sunset again," St-Pierre said.
Fans will remember St-Pierre vacated his welterweight title in 2013, and vacated a middleweight title after beating Michael Bisping last year. And, judging by comments UFC president Dana White made earlier this year, the Canadian isn't far off with his suspicisons.
"He was the 170-pound champion, he moved up to 185 pounds to take on Michael Bisping and put in his agreement that he would absolutely defend the title at 185 and then just dumped the title. I'm not interested," White said to the BBC. "Georges St-Pierre is looking for one off fights where he can make a lot of money, which it's smart, that's what he should do but we're not interested in that."
That being said, if the opportunity did arise for St-Pierre vs. Nurmagomedov, it's likely the one contest that could get the former double champion back in the Octagon.
"I always says the thing that excites me the most is when I can be the first to do something," St-Pierre said of fighting Nurmagomedov. "He's a great champion, in terms of legacy, I can't think of a fighter right now with a better legacy than Khabib."
Comments
comments