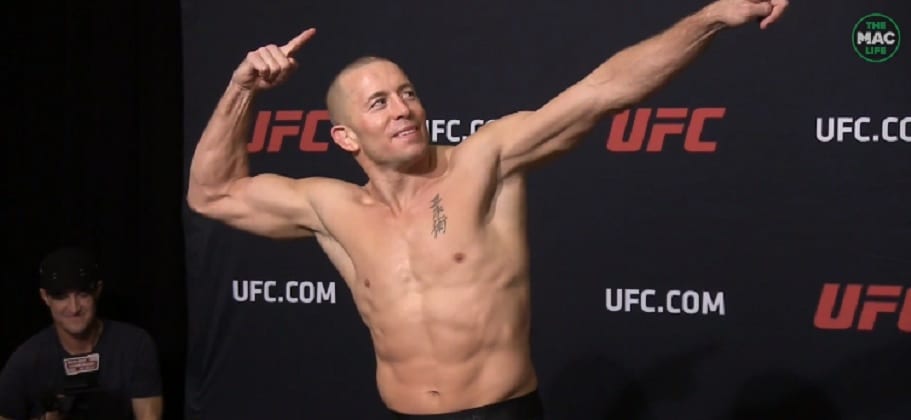 Georges St-Pierre didn't appear to have missed a step in the four years he had been away from the sport.
The Canadian legend and future hall of famer submitted Michael Bisping last weekend in Madison Square Garden to claim the UFC's middleweight title in what was his twelfth successive win in a UFC title bout — and his first ever time competing at 185-pounds. In doing so, St-Pierre joined an elite list of fighters (Randy Couture, BJ Penn and Conor McGregor the others) to have held world titles in more than one weight division in the UFC.
His historic win last weekend has also had implications in the official UFC pound-for-pound rankings. Having been absent from the list since he announced his hiatus from the sport four years ago, St-Pierre's victory against Bisping has propelled him to the business end of the rankings, where he clocks in behind Demetrious Johnson and Conor McGregor into third place.
In further ramifications from UFC 217, former women's strawweight champion Joanna Jedrzejczyk falls eight places to 15th, while Cody Garbrandt drops four spots to 10th following his bantamweight title defeat at the hands of T.J. Dillashaw.
Other movers in the rankings include Tony Ferguson who rises three places to number 9, largely due to the likes of Garbrandt and Jedrzejczyk falling beneath him.
Dillashaw, meanwhile, climbs to 7th after previously being unranked.
The full UFC Pound-For-Pound rankings are:
POUND-FOR-POUND
1 Demetrious Johnson
2 Conor McGregor
3 Georges St-Pierre *NR
4 Max Holloway -1
5 Daniel Cormier
6 Stipe Miocic -2
7 TJ Dillashaw *NR
8 Tyron Woodley
9 Tony Ferguson +3
10 Cody Garbrandt -4
11 Cris Cyborg
12 Amanda Nunes +2
13 Jose Aldo -3
14 Robert Whittaker +1
15 Joanna Jedrzejczyk -8
Comments
comments