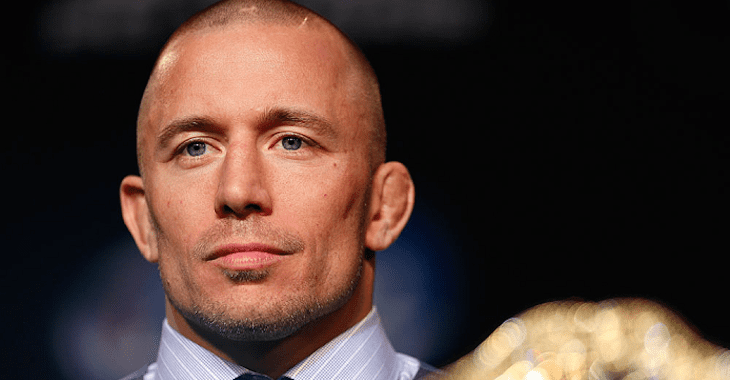 Georges St-Pierre, one of the greatest fighters in history, has retired.
The former UFC middleweight and welterweight champion announced his decision at a press conference in Montreal, Canada this morning, calling an end to his storied career at 37-years old.
"It takes a lot of discipline to become and stay champion. It also takes a lot of discipline to stop while still feeling that you're in the best physical and mental shape of your life but I've always planned to leave the sport when I'm at the top and in good health," St-Pierre said via press release.
"I want to thank my family, my fans, my coaches, trainers and training partners, my sponsors and my agents for their indefectible support during all these years. I will forever be grateful for the work of Lorenzo and Frank Fertitta, as well as Dana White and all UFC employees for giving me the opportunity to showcase my skills before the world, from UFC 46 to UFC 217. I also want to thank each of my opponents. All of them are incredible athletes who brought out the best in me. I retire from competition with great pride at having had a positive impact on my sport. I intend to keep training and practicing martial arts for as long as I live and I look forward to watching the new generation of champions carry our sport into the future."
St-Pierre owns victories over B.J. Penn twice, Josh Koscheck twice, Matt Hughes, Jake Shields, Carlos Condit, Johny Hendricks and Nick Diaz. Most recently, he defeated Michael Bisping to earn a world title at his second weightclass.
"Georges has cemented his legacy as one of the pound-for-pound greatest fighters ever," UFC President Dana White said (via press release). "He beat all the top guys during his welterweight title reign and even went up a weight class to win the middleweight championship. He spent years as one of the biggest names in MMA and remains one of the best ambassadors for the sport. He put Canada on the MMA map."
While later generations may not have a full appreciation for St-Pierre, his impact on mixed martial arts and the UFC is hard to state. For years, St-Pierre was the promotion's biggest star, particularly on pay-per-view, and almost single handedly turned Canada into a hotbed for MMA.
Outside of the Octagon, St-Pierre was also renowned as a tremendous ambassador for the sport, never engaging in trash talk or press conference shoving matches, instead citing the traditional honour of martial arts as his guide. He was also a phenomenal businessman, regularly pointing out the correct ways for fighters to value themselves even when facing pressure from promoters.
During his prime, St-Pierre ruled the welterweight division with an iron fist, defending the title 9 times. He's also noted as defeating three separate generations of 170-pounders in Matt Hughes, his own challengers, and Johny Hendricks. He retires on a 13 fight win streak.
As far as motivation for his retirement, during his press conference this morning St-Pierre spoke repeatedly of his desire to walk away on top of the sport. While a contest with Khabib Nurmagomedov would have kept him around for at least one more fight, when that fight failed to materialise, it became clear to the legend it was time to call it a day.
"In life, it's always the fighter that knows when to retire too late," St-Pierre said. "What I don't want is retire too late. That's what I don't want to do."
Comments
comments