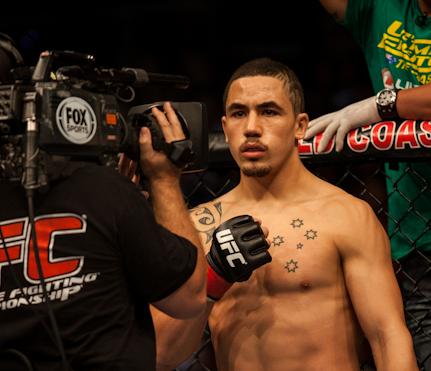 Robert Whittaker believes Israel Adesanya is an absolute talent and an incredibly dangerous man to fight in the Octagon. He just doesn't believe he's as good as Adesanya believes he is.
The UFC middleweight champion looks likely to meet the winner of the upcoming Israel Adesanya vs. Kelvin Gastelum (whom fight at UFC 236 for an interim title) once he's recovered from the emergency surgery he was forced to undergo in Melbourne recently. And while a Gastelum – Whittaker contest would reschedule the fight fans missed out on at UFC 234, a Whittaker vs. Adesanya bout seems to have a certain flavour to it that culminate into a stadium show in Australia.
But if you ask Whittaker what he thinks of Adesanya as a fighter, he looks at Adesanya's recent fight with Anderson Silva as the first evidence the hype train behind Adesanya should perhaps go down a gear.
"I think Adesanya isn't as good as he thinks he is," Whittaker said on the latest episode of his podcast GrangeTV. "I think he's very good. Very, very good. And I have a lot of respect for his skill set. He's a dangerous guy. But I don't think the pedestal he's on is as high as everyone else thinks it is, as he thinks it is. I think his fight with Anderson Silva was the first time his stand up capabilities got put to the test with someone with similar stand up capabilities.
"My thoughts are that we're not kickboxing. The difference of striking in the Octagon opposed to iun the ring is night and day. Especially in a MMA vs. kickboxing sense. Comparing the two isn't applicable. Yes he can take a lot of the skill sets over and they're very transferable, but it's not the same. It's not the same."
That's not to say the champion doesn't respect his fellow 185-pounder. On multiple occasions, Whittaker gave credit to Adesanya's abilities on the feet, he just sees proof in the pudding from that Silva fight.
"I don't think Adesanya's striking is as good as he believes it," Whittaker said. "It's very good. It's very, very, very good. I'm not saying his striking's bad. It's very good, it's very dangerous. I just don't think it's as good as he thinks it is, and I think that fight with Anderson Silva was the first time you had two people in the same Octagon with similar skill set capabilities. And Anderson Silva's striking is [very high]. The times Adeasanya's looked very, very good were against people who don't have the greatest striking."
–
Comments
comments