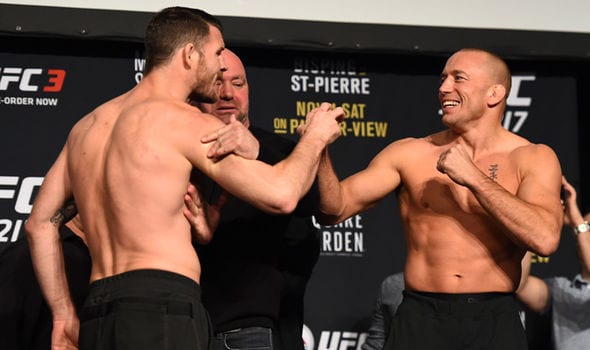 When Michael Bisping accepted a fight with Kelvin Gastelum just a few days after losing his world title to Georges St-Pierre, most fans and pundits were impressed.
The perfect example of the mental fortitude Bisping possesses, the Brit flew to Shanghai and faced off with Gastelum. Unfortunately for him, he was knocked out in a brutal fashion by the younger man, raising questions whether or not it was a wise move to accept the bout so soon after being defeated by St-Pierre.
According to St-Pierre himself, he respected the former champion's fighting spirit, but like many others questions how wise a decision it was by Bisping and the UFC.
"Medically, that was not the right thing to do," St-Pierre said, speaking with TSN. "However, if he would have succeeded – you know, he took a big risk and me, I can accept that because he took a big risk – if he would have succeeded he would have been like a hero. It's like, 'Oh my God, he just lose the title and then he come back with no preparation, boom, wins a fight.' I think he tried to do something that was very, very risky, but at the same time if he would have achieved it, it would have been a big reward for him. So I can respect that. For him, I can respect the idea that he had, the goal that he had doing it.
"However, I believe for the UFC, that was not good to let an athlete fight after getting concussed in a fight for the world title and then getting choked out. I don't think it was medically a good thing for the UFC. But for Michael, as a fighter, I understand his point of view. He wanted to turn around the table and he wanted to do something that was special and I can understand that because coming back after four years myself, it was a lot of risk, and I wanted to do something special and I succeeded, I'm happy I did it. Unfortunately for Michael, it failed. But I can respect that from a man."
St-Pierre's status in the UFC is currently uncertain. While he was supposed to face Robert Whittaker, he's since contracted Colitis, leaving his immediate future murky.
Comments
comments