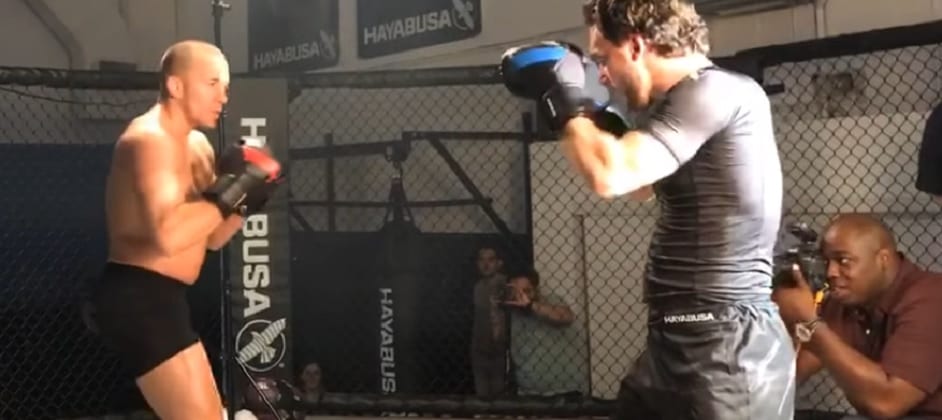 Georges St-Pierre is clearly working hard to neutralise any potential size disadvantages he might have when he faces Michael Bisping for the UFC middleweight title later this year.
GSP, who has competed a division below at welterweight for the entirety of his UFC career, returns from a more than three-year (and self-imposed) hiatus from the sport for an immediate shot at the 185-pound title and has worked to add some size to his frame to compensate for the size disadvantage he will have when he faces former light heavyweight fighter Bisping.
During his run as welterweight champion between 2007 and 2013, St-Pierre was linked to a bout with Anderson Silva — then the reigning 185-pound champion in what would have been a superfight between the two most dominant fighters in the sport at the time. While that particular fight ultimately failed to come to fruition, St-Pierre maintained throughout the speculation that if he ever did fight at middleweight he would have to spend some significant time bulking up his frame to deal with the bigger fighters he would be facing.
And it appears that's exactly what he has been doing recently.
As per Bloody Elbow, St-Pierre spoke of his training and the bulk he feels it is necessary to put on to deal with the size of Bisping.
"I have always been the same weight. When I knew that we were going to fight Michael Bisping, when I signed the contract, that's when I decided to put on a little more weight", he said during a Q&A with his sponsor Hayabusa. "I won't be able to put a lot, because I'm a natural guy. But I'm already a little bit bigger than I was."
"I'm the biggest I've ever been right now in my life. Bisping will still be bigger than me, but I'm confident that this will help. It's not my natural size, I haven't been this big in my life. But as a man, I'm going to be honest, we want to have bigger muscles and want to be big, so I'm happy to be a little bit bigger."
See below for footage of the new, bulkier Georges St-Pierre.
.
Comments
comments