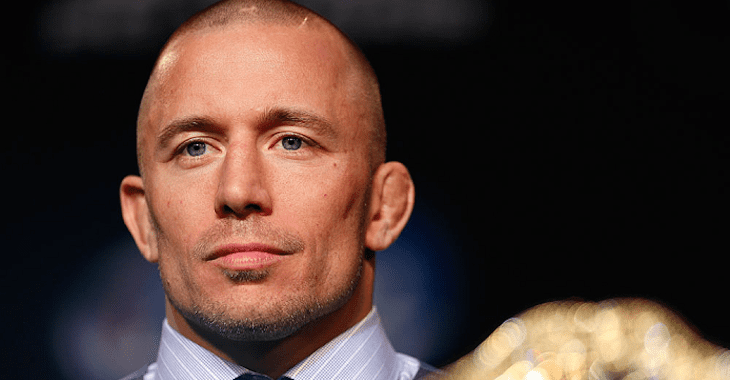 Georges St-Pierre is nearly 100% healthy after suffering from colitis and nearing a return to the UFC Octagon.
While it had been thought St-Pierre would be sidelined for prolonged period after he relinquished his middleweight title last year, it seems the Canadian has found methods to help heal his struggling body and is open to fighting before the year is out.
And with the UFC already offering him bouts — although St-Pierre declined the opportunity to fight Nate Diaz — it seems both parties would be interested in seeing the former two weight champion fight once again. Particularly as an event at Madison Square Garden is yet to have a main event announced.
"November [at MSG]? Yeah," GSP said, speaking with Submission Radio. "There's also Toronto in December. The thing is, what excites me is what can I have to improve my legacy? What can I do to improve my legacy? That's number one. And also the money. But legacy number one, the money is there."
Naturally, the next question after the when becomes the who. St-Pierre has made no secret that he's only prepared to compete against other men who will offer him both a significant payday and add something to his already considerable legacy.
Well, wouldn't you know, there's a contest on October 6 between Conor McGregor and Khabib Nurmagomedov that fits the bill. McGregor vs. St-Pierre would be a meeting between two of the biggest names in MMA history, and Nurmagomedov's style has yet to meet someone able to solve it.
And if you put a belt at a third weight on the line, then St-Pierre certainly isn't ruling it out.
"I would be interested in that fight," St-Pierre said. "That's a win-win situation. It's a legacy upgrade and it's good money — it's gonna be a big fight. Yeah. However, I fought at 170, I relinquished a title. I fought at 185, I relinquished a title. I don't think UFC will let me fight for the title at 155. They will be afraid I relinquish and I left the division in ruins.
"From my perspective, it's a very winning situation. For UFC, it's a big risk for them. Like I said, I'm older. I know Khabib, I've met Khabib many times. Khabib is actually bigger than me. He's a bigger guy."
–
Comments
comments