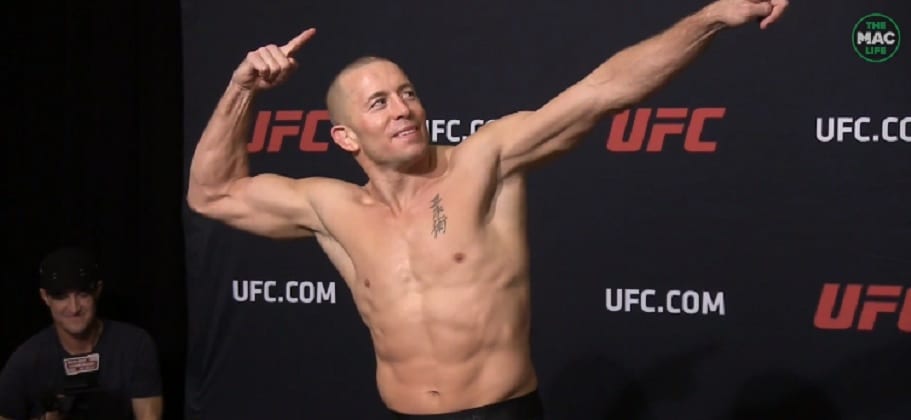 If you were to conduct a poll to determine the best UFC welterweight of all time, there's a decent chance you'd land on two names: Georges St-Pierre and Kamaru Usman.
Of course, there are several others worthy of mention (particularly Matt Hughes) but both GSP and Usman have been listed at the top of the pound-for-pound rankings and are widely considered to be the the two standout 170-pound fighters of the last decade or so.
The two fighters didn't overlap in the welterweight division throughout their respective careers but St-Pierre, who retired from the sport shortly after defeating Michael Bisping to claim the middleweight title in 2017, hasn't let his status as an inactive former pro from running the rule over the athletes who have risen to the top after him — and has detailed how he would have approached a fight with the reigning welterweight champ had it ever come to pass.
"Usman has a style that is very good at chain wrestling. He's very good when he puts his opponent against the fence. He can do it all, he's very well-rounded, but his main speciality is putting his opponent against the fence and working from there," said GSP, via GiveMeSport.
"My style, I was more a guy that moves. Hit and run, so to speak. That was my game, so my game would've been to put him down but with fakes, proactive and reactive takedowns. If I fought him I would've tried to put him on his back, because I've never seen him there. That would've been my strategy.
"Where someone seems stronger than everybody, there's a place where you need to attack because sometimes their strength can get transformed to a weak link. You never know how he fights on his back, nobody has ever exposed him there."
Usman has been inactive since last November's win against Colby Covington and there is currently no timetable for his return. He is expected to fight top contender Leon Edwards when he recovers from a damaged ligament injury in his hand.
Comments
comments