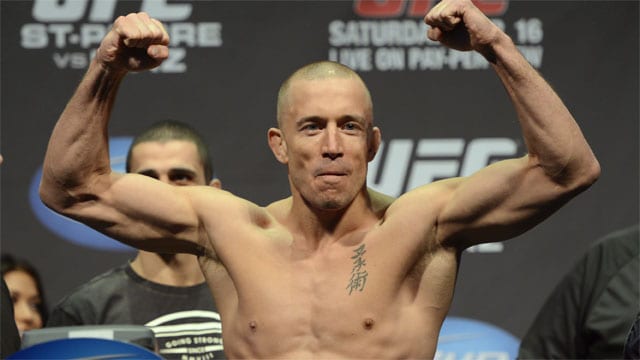 On November 4th Georges St-Pierre will return to active mixed martial arts competition when he challenges Michael Bisping for the UFC's middleweight title inside Madison Square Garden. 
When he steps into the cage inside the world's most famous arena, it will be just a week or so shy of four years since he last competed in the UFC — a successful welterweight title defence against Johny Hendricks at UFC 167. Shortly after that fight St-Pierre announced that he was taking leave from the sport, citing numerous shortcomings her perceived in the drug-testing infrastructure of the sport, as well as personal burnout from years of training and competing.
Now, as the 36-year-old Canadian legend prepares for his comeback he has elaborated on his reasons for stepping away.
As quoted by Newsday, the former 170-pound champion said: "When I left, it wasn't because of damage. It was more mental. More anxiety, nervousness. I couldn't sleep well. I felt like I was claustrophobic. Too much pressure.
"I had a problem at that time, too, a personal problem (when I walked away)," St-Pierre continued. "It's like a bag of bricks that you carry that you don't have time to empty your bag. It piled up on each other. Now I had time off, I had time to empty my bag. Now I come back light."
With ring-rust cited as a debilitating factor post-layoff for so many fighters, St-Pierre remains confident that he still has what it takes to compete at championship level in the UFC.
"It's always depending on how it's going to happen. How I will feel. I have no desire to hang out in the sport too long like a lot of guys did in the past. A lot of great boxer, some of the greatest fighter as well, they hang out too long. I have no desire to do the same thing. If I come back, it's because I believe you guys haven't seen the best out of me yet."
Comments
comments