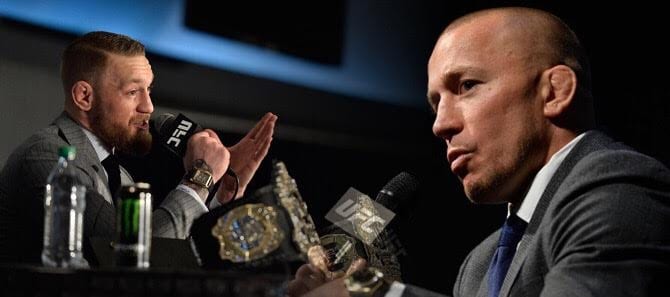 Ever since Georges St-Pierre announced his return to mixed martial arts, there has been another man's named in tandem. The name of UFC lightweight champion, Conor McGregor.
At first glance, it's perhaps an unusual link to make. McGregor made his name in the UFC at featherweight, before jumping up to lightweight, while St-Pierre is known as the best welterweight of all time. It's only upon further examination that a potential contest seems to find roots in logic.
First in the size difference. McGregor has fought at 170-pounds twice, perhaps in the most famous contests of his mixed martial arts career. St-Pierre has said previously he would be able to reach 155-pounds, and his recent move up to 185-pounds was far more of a struggle for his body.
Then the reasoning. Before his hiatus in 2013, St-Pierre was unanimously given the title as the 'pay-per-view king' — a seat since inherited by McGregor. Any clash between the two would likely break any records previously set in the UFC.. and it's perhaps there that the interest makes sense.
Once his return was cemented, St-Pierre was often asked for his plans, to which the response would be some variant of 'achieving history and doing things no-one else has'. After that, few more details would be granted. So, fans naturally began to theorize themselves. Could St-Pierre — inspired by McGregor's mulit-belt acheivements — be aiming for a three title reign? Middleweight, welterweight, before finally reaching lightweight?
It sounds implausible. But then, a year ago so did St-Pierre returning after four years and winning the 185-pound title.
However, St-Pierre seems to refuse to acknowledge the possibility. While McGregor seems to be the biggest contest the Canadian could find himself in, the former welterweight/now middleweight champion almost looks to avoid a link with the cocky Irishman. Although he's finding it harder and harder to do so.
Speaking on The MMA Hour today, St-Pierre was point blank asked if he intended to meet McGregor in the cage. And, while St-Pierre didn't admit it was something he was looking towards, he didn't exactly deny any interest.
GSP on potential fight with Conor McGregor: "I don't challenge guys that compete in smaller weight classes. I think it makes you look bad." pic.twitter.com/rbdOKPvobe

— MMAFighting.com (@MMAFighting) November 9, 2017
"Why is everyone asking me this question?" St-Pierre said. "He is competing in a different weight-class than I am. I'm not the kind of guy — as a fighter, I don't challenge guys in smaller weight-class divisions. I think it make you look bad. I don't want to do this.
"I'm very happy for Conor. He raised the bar for all of us. What he's been doing, he raised the bar for all the fighter. He does it for himself, but he does it for all of us at the same time. Even if he doesn't realise it, he does it for everybody. I think it's good for the sport, it's good for the fighter, it's good for everybody."
Comments
comments