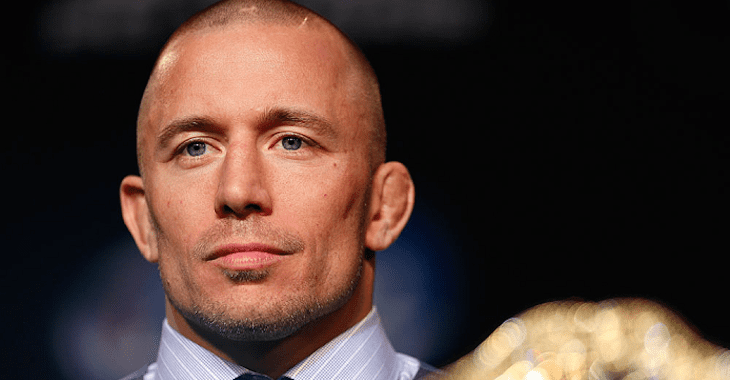 Despite all the drama that has been drudged up over the past couple of months, Georges St-Pierre is still excited about his return to the sport.
After his bout with Michael Bisping was cancelled due to the UFC being unwilling to wait for St-Pierre's return, the former welterweight champion revealed he was dealing with an eye injury that would keep him from competition for most of the year.
While it seems a mistake to book the St-Pierre and Bisping fight while St-Pierre knew of his injury, St-Pierre claims the UFC were well aware of the issue before they made the decision to hold a press conference and announce the contest.
Still, even though UFC president Dana White has publicly scrapped the bout, both St-Pierre and Bisping remain optimistic they'll still end up in the cage together. After all, St-Pierre is well aware that Bisping recently overtook him for owning the most wins in the UFC cage (Bisping has 20 to St-Pierre's 19).
"He has the most win(s)," St-Pierre said, speaking with TSN at a Nintendo Switch event earlier this week. "So I don't want him to win again because he beat my record, I was the one who had the most before. He has one over me. So I'm going to beat him, win another few more and then [I'll be] 36 so it'll be time to retire."
Much has been made of St-Pierre's overall plan. The Canadian has made wry references to future opponents after Bisping, which of course has made fans immediately speculate as to who it could be. St-Pierre, however, remains keeping his cards close to his chest.
"I came back to write a page of [the] history book," St-Pierre said. I want to do something that has never been done before, so I want to fight the guy that.. a big name. Everybody excites me a little bit, but I want the person who excites me the most."
"Maybe I'll defend the title, or maybe I'll go face the 170 [champion] or maybe there will be a bigger name that will come up. You never know."
Comments
comments